SIX by M.M Vaughan – Book Review
SIX by M.M Vaughan – Book Review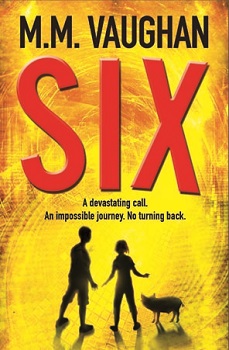 SIX
Author – M.M Vaughan
Publisher – Alma Books Ltd
Pages – 320
Release Date – 21st April 2016
Format – ebook, paperback
Reviewer – Stacey
I received a free copy of this book
Post Contains Affiliate Links

Parker and his family share a secret: they can, with the help of advanced technology, communicate between themselves through their thoughts.
When Parker, his dad, and sister Emma move to New York three years after his mother's death, Parker is having a hard time. He misses London and his friends, his father is distracted with his new job, and Emma is looking out for "him" instead of the other way around.
And then Parker's dad, on the cusp of a technological breakthrough, is kidnapped. Thanks to a message his dad sent telepathically before the signal cut off, Parker is suddenly on a rescue mission. Now Parker and Emma, along with their friend Michael and Polly the pig, must confront the only link to their father a dangerous man locked away in an asylum. But all the signs point to one thing: the company his dad works for is up to something big. "Huge. "A perfectly sinister project that threatens far more than Parker's family. A project called SIX."

SIX is a YA book aimed at the younger age of the market. It follows brother and sister, 12 year old Parker and 10 year old Emma Banks, who is deaf.
Their dad Geoffery is a molecular biophysicist, working for Avedo Enterprise on a top secret advanced technology project.
Nearing completion of the project, Geoffery is kidnapped. As he is being taken hostage, he manages to get a message to his son via his thoughts using a telepathy creation that he invented for his daughter, so that they family could communicate with one another. He tells Parker to find a man named Soloman Gladstone, and to tell him that he's been taken to SIX.
It is now up to Parker, Emma and wealthy friend Michael and his driver to save Geoffery, and most probably the world.
SIX is a fast paced story that weaves lots of action together with sci-fi, including the teleportation of Polly the pig.
The characters are very likeable, especially Emma. Even though she is two years younger than Parker, she really looks out for him, even fighting his battles with Aaron, the school bully.
It was lovely to see a close knit family in a YA book, rather than the kids being fed up of their parents.
The book was an interesting read, especially the technological advances that are portrayed. I also like that when the family were communicating via their thought that the messages were in bold. I do however feel that at 384 pages the book is very long for a YA, and children may be put off by its length, especially as the kidnapping doesn't happen until over 100 pages in. There was a lot of the story that could of been cut out and the book would still be as exciting, if not more so.
If you are into sci-fi, then this is the perfect book for you.
Book Reviewed by Stacey
Purchase Links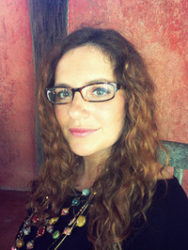 The daughter of South American parents, Monica Meira Vaughan grew up in Spain before moving to London at the age of five where she learnt English by watching Sesame Street and reading every Roald Dahl book she could get her hands on.
On leaving school, and after a brief stint in public relations, Monica decided to train as a primary school teacher. She has spent the last eight years working in special needs, mostly with children with emotional and behavioural difficulties.
Monica likes to start writing after midnight and it has been, until recently, her secret hobby. On the weekends she likes to try to catch up on her sleep.
She lives in London, England.
Author Links