Melanie's Evanescent Journey by B. Truly – Book Review
Melanie's Evanescent Journey by B. Truly – Book Review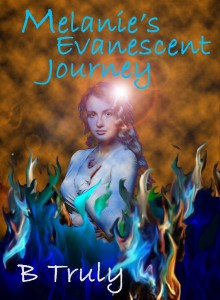 Melanie's Evanescent Journey
The Sonar Series Book 1.5
Author – B. Truly
Pages – 240
Release Date – 23rd April 2014
Format – ebook, paperback
Reviewer – David
I received a free copy of this book
Contains affiliate links

True Love may cost a price, if the greater good preordains that you are the sacrifice.
There are always two sides to a story. Melanie Wilhelm's begins after she moves from Australia and starts her senior year at Cashmere High.
On her first day, she bumps into a mysterious guy, and they form an instant connection. They become friends and he shares his deepest secret with her.
As they grow closer, their relationship amplifies and becomes binding. Strange things occur, but instead of worrying, Melanie's feelings intensify.
The excitement of New Year's Eve approaches, and so does Jason's most devastating revelation of all. She learns his ultimate truth and is now spun into his chaotic web.
The danger rises and hard choices must be made. By being with Jason, Melanie may have to sacrifice more than her heart. It may cost her life.
'Melanie's Evanescent Journey', ties into books one and two of The Sonar Trilogy. From spiraling twists to devastating plots, her journey will make you question fate and true love.
Is fate something you can control? Some believe it's in the hands of what you behold.

After moving from Australia, Melanie finds herself the new girl in town. However it's not long before one of the hottest guys at her high school, Jason, starts taking notice of her.
Jason and his twin siblings live with their foster parents. They don't know who or where their parents are, as they all have memory loss after they were found alone in the woods, as young teenagers.
Melanie and Jason fall in love quickly and have a special bond, however things take a turn for the worst when Jason's memory returns and he realises who or what he really is.
The book is split into two halves, with the first over the course of months and the last spanning many years. Both halves are told from Melanie's point of view.
At first I found the plot quite engaging and enjoyed getting to know Melanie and Jason more intimately. The two characters are interesting and the love they felt for each other poured off the pages, something that we don't get to really read about in the first book.
The pace of the first half of Melanie's Evanescent Journey was quite fast and I did become absorbed in the story very quickly.
The second half for me, was quite complex emotionally. I had a conflict going in my head, as I loved Melanie's character and I felt her and Jason fitted perfectly together, and I didn't want the relationship to fall apart. At the same time I liked Shiray in the first book, and I understood that Jason was hers.
Because there isn't a happy ending for Melanie and Jason, which we know because this book mimics the first book, but told from Melanie's point of view, it made for quite uncomfortable reading, and actually made me start to dislike the characters that I had gotten to know in the first book and enjoyed.
I do understand what the author has tried to do, by letting us see how the story panned out from Melanie's point of view, but I really don't think it added much to the story, and if I'm honest, I didn't need to know what Melanie was feeling, thinking etc, or how she moved on with her life, as she isn't a major character in the first book.
This is the part of book blogging that I don't like; having to give an honest opinion on a book that didn't keep me captivated right to the end, which is a shame as I enjoyed the first book – sorry!
Book reviewed by David
Purchase Links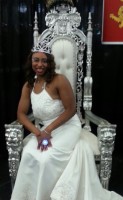 I have wanted to be an author since I was fifteen years old and grateful to have accomplished this dream.
I have three wonderful children and a husband who defines the person I am today. I work as an Ultrasound technologist in Sugarland, Texas and enjoy this field.
I have very vivid dreams and a wild imagination. I like to read and watch tons of television shows and movies. I'm addicted to romance and get a thrill out of suspense.
It was fun to explore different elements of Paranormal romance. I want to show my readers that paranormal romance can be fun, but also traumatic.
Author Links