Beautiful Creatures by Kami Garcia & Margaret Stohl – Book Review
Beautiful Creatures by Kami Garcia and Margaret Stohl – Book Review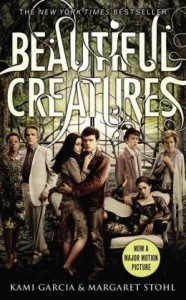 Beautiful Creatures
Author – Kami Garcia and Margaret Stohl
Publisher – Little, Brown and Company.
Pages – 592
Release Date – 1st December 2009
Format – ebook, paperback, hardcover, audio
Reviewer – Stacey
Rating – 5 Stars
Contains Affiliate Links

Lena Duchannes is unlike anyone the small Southern town of Gatlin has ever seen, and she's struggling to conceal her power, and a curse that has haunted her family for generations. But even within the overgrown gardens, murky swamps and crumbling graveyards of the forgotten South, a secret cannot stay hidden forever.
Ethan Wate, who has been counting the months until he can escape from Gatlin, is haunted by dreams of a beautiful girl he has never met. When Lena moves into the town's oldest and most infamous plantation, Ethan is inexplicably drawn to her and determined to uncover the connection between them.
In a town with no surprises, one secret could change everything.

Lena Duschannes is a Caster (Similar to a witch), who is living with her Uncle Macon Ravenwood in Gatlin, South Carolina.
Ethan Wate is just an normal teenager living in Gatlin with his author dad. His dad has been hiding away in his office since his wife, Ethan's mum, died. Leaving the house keeper Amma to look after the Ethan. Amma is also a Seer.
At the start of the book we find out that Ethan keeps on having a recurring dream in which there is a girl he has never met. Then Lena starts at the school Ethan attends and he is quickly drawn to her and realises that she is the girl from his dreams.
Wanting to find out more about Lena Ethan tries to befriend her but she pushes him away. Over the course of the first few chapters we feel Ethan's pain as he desperately tries to get Lena to trust him, for him it was love at first sight and he wants Lena to feel the same.
Lena is convinced though that on her 16th birthday, the day she will be claimed either a light or a dark caster, that she will turn to the dark side and tries to block Ethan from her life.
Lena is a mixed up young girl who pushes everyone away as she doesn't want anyone to get hurt if the dark consumes her. She has a strong personality, but we also get to see a softer, vulnerable side to her.
Ethan comes across as a bit of a love sick puppy who follows Lena everywhere and can't get her out of his head.
Ridley, Lena's Siren cousin, although a dark caster who can make anyone do anything with the lick of her lollipop, has a witty, fun personality that even when she is causing trouble you can't help like her.
There are a lot of strong characters in the book, but they don't over power each other. They all have their own traits and are distinguished from one another and each play a vital role in the story.
The book is about self discovery for both Lena and Ethan and about learning to face your fears head on, and to trust people especially those that love you.
From Chapter One right to the end of the book, it was explosive and kept me gripped and absorbed in the life of Lena and a world where humans and casters live side by side. The story is captivating and will have you immerses into a world where magic is real.
The book plays with your imagination, and creates a world we know isn't real but yet can visualise it just as vividly. I was kept on my toes throughout the whole book and the ending, which I didn't see coming, had me downloading book two straight away as I needed to know what happened next.
There is also a spin off series to Beautiful Creatures, with books one and two having been reviewed on the blog already. Dangerous Creatures and Dangerous Deception.
Book reviewed by Stacey
Purchase Links