Wrestling Demons by Jason Brick – Book Review
Wrestling Demons by Jason Brick – Book Review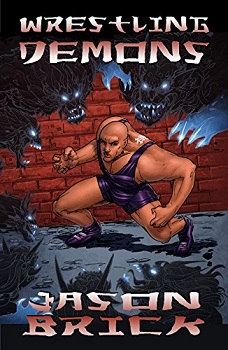 Wrestling Demons
Author – Jason Brick
Publisher – Not a Pipe Publishing
Pages – 318
Released – 19th June 2017
ISBN-13 – 978-0998388038
Format – ebook, paperback, hardcover
Reviewer – Abby
Rating – 4 Stars
I received a free copy of this book
Post contains affiliate links.
Varsity wrestler Connor Morgan and his mother moved to Portland, Oregon to get away from his drug-addicted father, but they didn't move away from trouble. At his new high school, three heavyweight wrestlers chase him through the halls. He runs away, in his underwear, past the girl he likes, into the January cold.
Then something weird happens.
The next thing Connor knows, he is fighting for his life against supernatural evil with the help of new friends as he learns the powers and dangers of his new destiny. The stakes rise as he discovers a powerful enemy bent on destroying more than just his high school. Ultimately, he must embrace his role in an ancient fight if he wants to save the day.
And he still has to get good grades and a date for the prom.

Part high school drama, part Japanese mythology, Wrestling Demons by Jason Brick is a novel that ticks all the conventional YA boxes, then superkicks them to the dojo floor.
Starting with the more conventional elements, Wrestling Demons follows Connor Morgan, a sophomore who's recently moved to a new school in Portland, Oregon. He's an ambitious and capable athlete, joining the school's wrestling varsity team. He's also got his 'flaws': he comes from a broken home. He feels like he doesn't fit into school life. He's not got the girl. He's also frantically running around the school hallways in his underwear as he's being chased by a gang of bullies from his wrestling team, even just after winning a match. This is when he bumps into Susan 'Freaking' Parker – AKA the girl of his dreams.
It's also when he witnesses something 'weird happen', as a girl from his wrestling team – Sage – and her friends attacks the bullies. As they lay on the ground, 'shadows started dripping out of their ears… the shadow congealed into the form of short… thing'.
As the story progresses, Connor learns the significance behind this event. Through Sage and her friends, he learns he is in fact part of the Bushido Champions, a group of 'chosen kids' from the school who are part of an urban Japanese legend. They have the ability to see things other people can't – the oni. Evil spirits that feed on people's negativity. When you learn to see them, you begin to realise they are everywhere. Their master is the yokai, and the fact that these five teens are all in the same school suggests that this evil master must be there too. Now Connor has been initiated into the group and is being trained by the sensai, it's their mission to find out who the yokai is, and how to defeat them…
For Connor, or Chuugi (meaning loyalty), as the urban legend dictates, joining the Bushido Champions represents his coming home. Having moved from town to town for years with his mother to escape his father, he's never felt settled: 'I felt welcome, cared for and safe. I felt like I had come home.'
Two of the Bushido Champions are female – Sage and Alex. Along with his mother – a nurse working all hours to provide financial stability for the family – and Mrs. Dochevnya – an elderly neighbour who looks out for Connor – they make for an inspiring cast of strong females that I assume are overlooked in many wrestling or martial art stories. Connor's sort-of girlfriend Susan is also a strong female character, but in my opinion is too pushy and fickle for Connor and his likeable demeanour.
As someone unfamiliar with urban fantasies and martial arts, I found some of the non-action packed scenes or motifs more significant. This includes the three posters that Connor had in his bedroom. Everywhere he lived, these three posters were tacked up on the wall. One was of wrestler Coach Dan Gable, and another was Olympic wrestler Cael Sanderson. The third was a picture of Kyle Maynard, an inspirational MMA fighter who is a congenital amputee. These posters watched over Connor as he grew up, and provided him comforting words when he needed them, acting as the male role models his father never was. However, ultimately, in tough moments, even the posters can't help Connor.
Spoiler-free but inevitably, there is a fight that tests Connor to his limits. Connor's motive to fight is his inherent loyalty to his mother, Susan, and his new-found family, the Bushido Champions.
Despite not being a wrestling fan or knowledgeable in Japanese folklore, the themes of identity, betrayal and friendship throughout the novel transcend the plot, making Wrestling Demons accessible and enjoyable to me from a more emotional perspective. So, regardless of your fascination with martial arts and action-driven plots, I recommend Wrestling Demons as a great YA read – funny and vulnerable with strong female characters.
Reviewed by Abby
---
Purchase online from:
---
About the Author

Jason Brick is a professional writer, martial artist, travel addict, and dad whose work has been published across multiple genres and formats.
He has contributed over 3,000 articles and short stories to print magazines and online sites in topics ranging from home improvement, to health and wellness, to cocktail recipes, to small business management. Some of Jason's top-level corporate clients include Black Belt and Thrillist magazines, American Express, Intuit, and Mint.com.
Jason has ghost-written more than 20 books and ebooks for corporate and private events. All five volumes of his Random Encounters series were simultaneously in their category top 10 on Amazon in early 2016.
He is also an accomplished speaker, and frequently travels to host workshops and deliver lectures at various writer's conferences and festivals. When not writing, he studies jujitsu, capoeira, and kenpo karate, cooks, travels, and spoils his delightful wife and two fine sons. He lives in Oregon.



---