Finding Soul by T.L. Searle – Book Review
Finding Soul by T.L. Searle – Book Review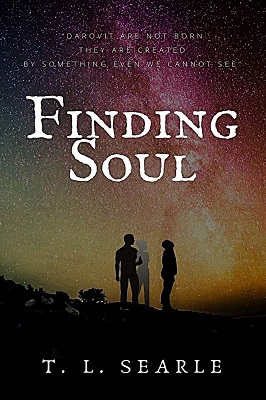 Finding Soul
The Darovit Series Book One
Author – T.L. Searle
Pages – 366
Released – 30th December 2019
ISBN-13 – 978-1653377596
Format – ebook, paperback
Review by – Stacey
Rating – 3.5 Stars
I received a free copy of this book.
This post contains affiliate links.


"Darovit are not born
They are created
By something even we cannot see"
Benjamin SOLOMAN
Four-year-old Jonathan Miller was rescued by a girl with rainbow hair, shrouded in black, who flew like magic along the ground. Eighteen-year-old Jon, obsessed with fantasy and the supernatural, dreams of her still.
Now she has returned. She says he's no longer safe and that he needs to come with her; that the necklace she gifted him is no longer enough. But who is she? And who is he?
Joined by his best friend, Miles, Jon is led on a frightening tour of an Otherworld he knew nothing about; a missing Seer, the nefarious Otherworld hit men the Vipers, witches, Not-Mermen and the ugly toads that had once captured him.
And his companions have their own gifts. They are Darovit; Their scaled Dar their constant companions.
But she is not just his hero
And he was not just a boy
And the Otherworld
Is hunting him still.

Eighteen-year-old Louisiana university art student Jonathan (Jon) Miller heads to his class one morning and sees the girl who saved him from being kidnapped fourteen years ago. The strange thing is she hasn't aged, plus she disappears as fast as she appeared.
On his lunch break the girl appears again and tells Jon he is to go with her, the necklace that she gave him all those years ago can no longer keep him safe. Whilst talking, Jon's best friend Miles appears and the girl stabs him in the arm, right where his Cobra Snake tattoo is. Turns out that Miles is a Darovit, just like the girl.
The three end up on an adventure to try to find out who wants Jon dead. In a world filled with Vipers, Jotunn (Toad-men), Mermen, Seers, Witches, and more this is something otherworldly. The big question is though, who is Jon really?
Finding Soul is the first book in a planned series set in the real and fantasy world. The book begins with a powerful Seer telling the girl who saved Jon when he was four it's time, presumably to save him again.
Jon has moved around a lot, from San Francisco where the kidnapping took place to Seattle and onto Louisiana. His mother was always looking for their next move but recently she has become more settled so he presumed whatever they were running from was behind them.
The book is written in the third person and from the points of view of Jon, Miles, and Her (the girl). I was intrigued to find out why people were targeting Jon but I got a bit frustrated that any sense of what was occurring took so long to be revealed. Jon kept on asking questions but was shut down a lot. Whilst the storyline jumped right into the action from the beginning I started to get fed up at about 30% of the way through when I was still none the wiser about what really was happening and lots of fantasy people were mentioned but not much else about them.
With this being the first in a series though I can understand the need to want to keep the suspense going. The world-building was superb and I liked the idea (even if it has been done numerous times) of otherworld people walking amongst us humans.
This is a fantasy story about one teenage boy whose life is turned upside down in the blink of an eye. Not only does he have to rely on a girl he doesn't know and a best friend who isn't who he thought he was, but also come to terms with the fact that people want him dead and he doesn't understand why or who.
Overall, it is a decent start to a series and the author clearly has a very vivid imagination that works well. I was a little confused in places but then I kind of expected to be as I'm not much of a fantasy reader these days.
Book Reviewer – Stacey
---
Purchase online from:
---
About the Author

T. L. Searle was born in Somerset, England, where she now lives with her husband and two children. She is a critical care nurse in an intensive care unit as well as an indie author. Her passion for reading novels of all genres led her to publish her first fantasy romance novels and she is currently working on a new series.




---
What did you think of Finding Soul? Share your thoughts in the comment section below!
---
The above links are affiliate links. I receive a very small percentage from each item you purchase via these link, which is at no extra cost to you. If you are thinking about purchasing the book, please think about using one of the links. All money received goes back into the blog and helps to keep it running. Thank you.
Like us on Facebook – Tweet us on Twitter – Pin us on Pinterest