The Writing Life of: Marian L Thorpe
Marian L Thorpe
This week I am thrilled to be interviewing author Marian L Thorpe. Marian L Thorpe will be sharing with us details of her writing life, telling us all about her latest book 'Empire's Reckoning', which was released on 30th May 2020 and answering a few fun questions too. This post contains affiliate links.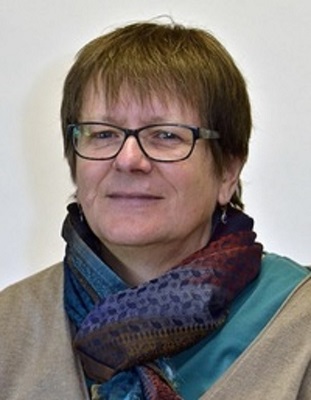 After two careers as a research scientist and an educator, I decided to go back to what I'd always wanted to do and be a writer. As well as my alternative dark ages trilogy Empire's Legacy, the companion novella Oraiáphon, and Empire's Reckoning, the first book of the planned Empire's Reprise trilogy, I've also published short stories and poetry. My life-long interest in Roman and post-Roman European history informs my novels, while my avocations of landscape archaeology and birding provide background to my settings.
Married to B.D. Rennie, also a writer (his young adult low fantasy books are in the final stages of editing), I live in Guelph, Ontario, in a house that Pye-cat graciously allows us to share.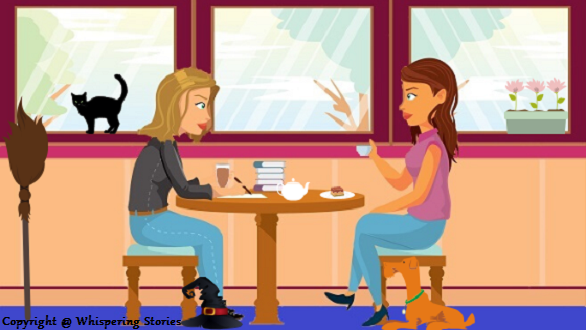 1) As a child did you have a dream job in mind?
I wanted to be a teacher (which I did become, eventually). At about 13, I decided I wanted to be a plant scientist of some sort. I did that too, for about a decade.
2) Who was your favourite childhood author (s)?
Lucy Maud Montgomery, Arthur Ransome, and T.H. White.
3) Was there a particular point in your life that you realised you wanted to be a writer?
I don't remember ever not wanting to be a writer.
4) What is your average writing day like? Do you have any special routines, word count, etc?
Well, that's evolved over the years. But now, with COVID preventing writing in coffee shops, I write in my study for about 2 hours (1000 words – I'm a slow writer) in the morning, and then I go out for 90 minutes or so on my bike, or walking, and think about plot points and problems. I make notes, and I may fix a line or two when I get back, but usually I won't write again until the next day.
5) How many books have you written? Any unpublished work?
I have four published novels and one novella, and I'm working on the 5th full book in the series. I wrote three other books prior to publication – all apprentice-level work, not publishable in my opinion.
6) Are you a plotter or a pantser?
Pantser evolving into a plotter, although my characters still like to take over and ruin my plans.
Concerning your latest book: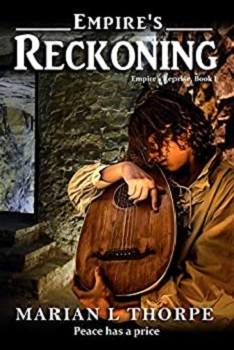 Empire's Reckoning


A Novel of an Alternative Dark Age
Author – Marian L Thorpe
Publisher – Arboretum Press
Pages – 442
Release Date – 30th May 2020
Format – ebook

How many secrets does your family have?
For 13 years, Sorley has taught music alongside the man he loves, war and betrayal nearly forgotten. But behind their calm and ordered life, there are hidden truths. When a young girl's question demands an honest answer, does breaking the most important oath he has ever sworn by lying – or tell the truth, risking the destruction of both his family and a fragile political alliance?
Continuing the story begun in the Empire's Legacy trilogy, Empire's Reckoning asks if love – of country, of an individual, of family – can be enough to leave behind the expectations of history and culture, and provide an uncharted path to peace.
---
7) How did you go about researching the content for your book?
That's hard to answer, because they're all one series. My books are set in a world similar to, but not, northern Europe after the decline of Rome. I've been interested in the Roman and early-medieval history of Britain most of my adult life, so much of my 'research' are things I know from years and years of reading. But I also still read a lot in the area, and I didn't know much about Rome itself (which is the basis for the city of Casil in my books), so I've taken a few on-line courses on ancient Rome, and then in February of this year I went to Rome for 4 days.
Another writer had given me a reference for a private guide, and she took me to all the places I needed to see for the WIP. For the most recently published book, Empire's Reckoning, it was just little things – the extent of the Caledonian forest in the 7th Century, and exactly what does a Procurator do in a Roman province?
8) How long did it take to go from ideas stage to writing the last word?
For Empire's Reckoning, far too long. Eighteen months, almost, because I threw out the first 80K words and started again. I hadn't intended to keep going: the trilogy Empire's Legacy was supposed to be it. When readers told me they wanted more….and the characters wouldn't go away, I started a book, but it needed a lot of backstory, and that backstory took over. So at 80K, I scrapped it, and started again.
9) How did you come up with the title of your book?
All the books have Empire in the title (except the novella), so it's a matter of finding a second word that describes the main theme or action. For Empire's Reckoning, it's about, in the words of my protagonist Sorley, "the debt owed, the reckoning of the price paid that must be made in every heart after war."
10) Can you give us an insight into your characters?
The original MC, and the narrator of the first trilogy, is a woman named Lena. She's a fisherwoman, a village girl who has her life turned upside down when invasion threatens her land and it's necessary for women to learn to fight. She's pragmatic, resourceful, but no superwoman. She makes some bad mistakes. As the story progresses, she's sent north as a hostage to a treaty, meeting two men who become main characters: the teacher and envoy Cillian, a difficult, enigmatic man, and the musician Sorley. Sorley is the narrator of the novella Oraiáphon, and of Empire's Reckoning.
Sorley – Lord Sorley of Gundarstorp – really wants only two things in life: to be a scáeli (a bard), and Cillian. Or so he thinks, until the forces of war and peace means his ancestral lands are lost to him. The depth of his love for his home comes into direct conflict with his other loves, providing the personal story arc for Empire's Reckoning, set against a political one that reflects Sorley's struggle.
11) What process did you go through to get your book published?
I submitted Empire's Daughter, the first book, directly to several publishers. It was accepted and prepared fully for publication by a small press…who went out of business just before publication. My contract (thanks to my ex-lawyer sister) had provision for that possibility, and all rights reverted to me immediately. Now I'm published by another small house, one I'm actively involved in: it's run as a collective, and we share skills in everything from all levels of editing to layout to cover design.
12) What's next for you writing wise?
I'm working on Empire's Heir, the fifth full novel in the series. The MC of this one is Lena's daughter Gwenna: she's eighteen, the same age her mother was in the very first book.
Fun Questions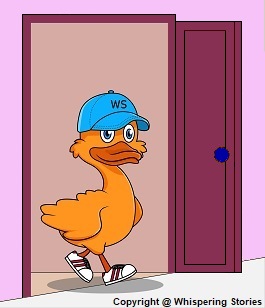 1) If you could have any super power for the day which would you choose?
I wouldn't. With power comes responsibility, and the degree of responsibility that would come with a superpower is not something I feel equipped to handle.
Pye-cat. She was left in the open garage of our previous house one night twelve years ago. We had two other cats at the time, and didn't need another one…but she was so cute. Now she's an only, which she much prefers.
3) If you decided to write an autobiography of your life, what would you call it?
All the Birds of My Life. I've been an active birder for over forty years, an avocation that's taken me to all 7 continents and some pretty remote parts of the world. I might write it someday.
4) Your book has been made into a feature film and you've been offered a cameo role, which part would you choose, or what would you be doing?
In Empire's Reckoning, one of the estates is run by an independent woman, Birgit, rare for the culture. I'd take that role.
5) Where is your favourite holiday destination?
The three places I've loved the most have been Antarctica, Botswana and Mongolia. Those are all one-off trips, though. My heart belongs to Britain, specifically to Norfolk, where (up until COVID) we've spent our winters, and part of it belongs to the California coast between Morro Bay and Monterey, driving Highway 1.
6) A baseball cap wearing, talking duck casually wanders into your room, what is the first thing he says to you?
Bet I'm not on your life list.*
*A life list is a list a birder keeps of every species, sub-species, possible sub-species, and variant of birds they've seen.
---
I would like to say a big thank you to Marian L Thorpe for sharing with us details of her writing life and for a wonderful interview.
Author links





---
Share your thoughts on our interview with Marian L Thorpe in the comment section below!
---
The above links are affiliate links. I receive a very small percentage from each item you purchase via these link, which is at no extra cost to you. If you are thinking about purchasing the book, please think about using one of the links. All money received goes back into the blog and helps to keep it running. Thank you.
Like us on Facebook – Tweet us on Twitter – Pin us on Pinterest