The Redpoint Crux by Morgan Shamy – Book Review
The Redpoint Crux by Morgan Shamy – Book Review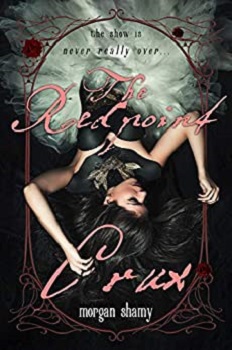 The Redpoint Crux
Author – Morgan Shamy
Publisher – The Parliament House
Pages – 290
Released – 9th June 2020
Format – ebook
Review by – Tina
Rating – 3 Stars
I received a free copy of this book.
This post contains affiliate links.


When Megan Van Helsburg gets kicked off the U.S.A. Climbing Team, she has no choice but to return home and leave her climbing career behind. With no coach, no money, and no prospects, she joins the corps de ballet determined to improve her strength and agility. But the ballet theater is in dire straits. Not only do a series of murders break loose, but the ballerinas are becoming deathly thin and brain-dead. As Megan investigates, she meets Bellamy, a tortured young man who lives beneath the depths of the theater. Megan falls hard and fast for Bellamy, who becomes her mentor, but something is off about him.
It isn't until the company announces they're doing Giselle for the fall performance that Megan realizes the parallels between the ghost story and the lives around her. Megan must find a way to not only save her climbing career, but balance her feelings for Bellamy, and stop the murders and dying girls before she, too, is numbered among the dead.

The Redpoint Crux is a YA mystery heavily influenced by The Phantom of the Opera and ballet.
After a nervous breakdown causes Megan to lose her ability to compete in rock-climbing, she returns home to Halifax, her brother, and the ballet career she had abandoned. While there, Megan attempts to unravel her own personal issues while becoming involved in a murderous plot that is tied to her father's mysterious death a decade before.
The novel excels in technical descriptions of rock-climbing and ballet and creates an atmospheric tone throughout; while reading, you're unsure whether the mystery is paranormal in nature, which adds to the pervading sense of dread.
Yet, while the novel is very easy to read and the story intriguing, the pacing and characters suffer. The novel moves at a blistering pace. As such, we don't really get to know Megan before her life is flipped upside down. So much happens in this short book that it feels Megan doesn't fully react to or process events that should be traumatic. As such, aspects that should be at the forefront (the romance, the mystery itself) get lost in the shuffle and led me to not understand Megan's motivations at times.
Had the story not given theatre director Liam his own perspective there would have been more time for Megan to deal with her trifecta of family issues, burgeoning romance, and the mystery itself.
I did very much enjoy the "Phantom" aspect – the attraction between the two characters is very well described and palpable – but it could have been drawn out longer to build more romantic tension. It felt more like a side-story than the crux of the novel.
There were also small inconsistencies and questions I had throughout, such as why the police were not involved in the murder investigation, why the brother would have been discharged from the hospital for "insurance" reasons when Nova Scotia has universal healthcare, what mental disorder Megan's mother had, and various other small aspects that distracted me from the story.
Readers who love ballet and the Phantom of the Opera would very much enjoy this story, but while I found it entertaining I wasn't emotionally invested.
Book Reviewer – Tina
---
Purchase online from:
---
About the Author

Morgan Shamy is an ex-ballerina turned YA writer. She is represented by Kelly Peterson of Rees Literary Agency.
Morgan has been immersed in the arts since the young age of 4, where she trained under the tutelage of Julie and Stacey Orlob. She performed various roles alongside a professional ballet company for over seven years, and has danced on prestigious stages like soloing at Carnegie Hall in New York City.
She has taught hundreds of girls in her fifteen years of teaching, where some of her students have received full-ride scholarships to schools like School of American Ballet, the Harid Conservatory, Kirov Academy of Ballet, and Pacific Northwest Ballet, to name a few.
Morgan discovered writing when her three-year-old son was diagnosed with cancer. It was through that experience which instilled the need to share art and magic with children through words on the page.
Morgan is also an accomplished concert pianist. She was the first girl in Utah to receive the 75 pt. Gold Cup in the Utah Federation of Music in piano solo/concerto competition. Morgan currently lives with her X-Games gold-medalist husband and four children in the cold mountains of Alaska.

---
What did you think of The Redpoint Crux? Share your thoughts in the comment section below!
---
The above links are affiliate links. I receive a very small percentage from each item you purchase via these link, which is at no extra cost to you. If you are thinking about purchasing the book, please think about using one of the links. All money received goes back into the blog and helps to keep it running. Thank you.
Like us on Facebook – Tweet us on Twitter – Pin us on Pinterest