All About Charming Alice by J. Arlene Culiner – Book Review
All About Charming Alice by J. Arlene Culiner – Book Review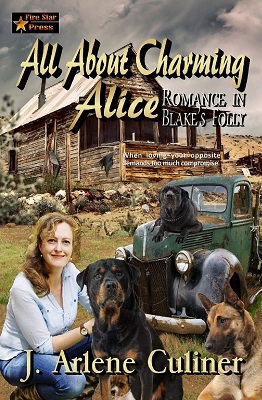 All About Charming Alice
Romance In Blake's Folly Book Two
Author – J. Arlene Culiner
Pages – 180
Released – 25th February 2019
ISBN-13 – 978-1796764925
Format – ebook, paperback
Review by – Julie
Rating – 4 Stars
I received a free copy of this book.
This post contains affiliate links.


Alice Treemont has given up hope of meeting the right man and falling in love. Living in Blake's Folly, a semi-ghost town of rusting cars, old trailers, clapboard shacks and thirsty weeds, she spends her time cooking vegetarian meals, rescuing unwanted dogs, and protecting the most unloved creatures on earth: snakes. What man would share those interests?
Jace Constant is in Nevada, doing research for his new book, but he won't be staying long. As far as he's concerned, Blake's Folly is hell on earth. He's disgusted by desert dust on his fine Italian shoes, and dog hair on his cashmere sweaters. As for snakes, he doesn't only despise them: he's terrified by them. He can hardly wait to get back to Chicago's elegant women, fine dining, and contemporary art exhibitions.
So how is it possible that each time Alice and Jace meet, the air sizzles? That she's as fascinated by him as he is by her? That they know their feelings go deeper than raw desire? Still, it looks like this relationship is doomed before it even starts.
In need of juicy gossip, the other 52 residents of Blake's Folly have decided Alice has been alone for long enough. The attraction between her and Jace is obvious, so why worry about essential differences? If you trust in love, solutions do appear. But don't those solutions call for too many compromises, too much self-sacrifice?

'All About Charming Alice' is the second romantic novel in a series from the pen of American-born French-based author, J Arlene Culiner. Our heroin is Alice Treemont who gave up her glamorous yet superficial LA lifestyle a decade ago. She now lives in a house built by her great-grandfather, in the small settlement of Blake's Folly, Nevada. Alice loves all animals and readily takes in waifs and strays. She earns a meagre living by studying and writing articles about snakes for a magazine.
The story is written in the past tense and the third person. We see the action from Alice's perspective and from that of Jace Constant, the tall dark handsome bachelor from Chicago, who turns up on her porch with a displaced dog. Alice has a room for rent and, after a few days, Jace decides to forego the amenities of a comfortable motel and lodge with her. After a short while, Alice realises why Jace looks familiar. He is an investigative journalist, turned historian and college lecturer, who has come to the area to undertake background research into a book about the old West. There is no doubt that despite her determination to lead a single life since her messy divorce, she finds Jace very attractive. They settle into a sort of homely co-existence with Alice introducing Jace to all sorts of wonderful vegetarian meals. (I particularly liked the courgette – zucchini – recipe and think I might try it.)
By seeing things from the dual perspective of Alice and Jace, the reader is aware that the attraction between them is mutual, so that takes away the element of doubt regarding the sincerity of his feelings for her. There is a brief suggestion of an additional layer, when Alice's friend, Rose, appears to be a rival for Jace's affections but this doesn't really amount to a serious threat and quickly fizzles out.
The cover is delightful. It oozes charm from a bygone era and while the novel is contemporary in setting, this is very much an old style romance with the dynamic between Alice and Jace ebbing and flowing until things reach their inevitable conclusion.
I haven't read the first book in this series but this story definitely stands alone. The author paints a vivid picture of life in the dusty desert and makes her main character a herpetologist which is an unusual touch but otherwise there's little to make this book stand out from the crowd in a very competitive genre. Nevertheless, for those looking for a gentle simply-structured romance with a happy ending, then this will fit the bill perfectly. I congratulate the author on sticking faithfully to her task and objectively award four stars.
Book Reviewer – Julie
---
Purchase online from:
---
About the Author

Born in New York, raised in Toronto, J. Arlene Culiner has lived in several cars, one closet, a Hungarian mud house, a Bavarian castle, a Turkish cave dwelling, in a haunted house on the English moors, in the Sahara desert, on a Greek island, in several French villages.
She has worked as a go-go girl, belly dancer, fortune teller, translator, newspaper deliverer, radio broadcaster, contemporary artist, photographer, actress and writer.
She now resides in a 400-year-old former inn/museum in a French village of no real interest. Much to everyone's dismay, she rescues dogs, cats, hedgehogs, and protects all other living creatures — especially spiders and snakes. Her wild (or wildlife) garden is a classified butterfly and bird reserve.
She writes romances as J. Arlene Culiner, mysteries and non-fiction as Jill Culiner.




---
What did you think of All About Charming Alice? Share your thoughts in the comment section below!
---
The above links are affiliate links. I receive a very small percentage from each item you purchase via these link, which is at no extra cost to you. If you are thinking about purchasing the book, please think about using one of the links. All money received goes back into the blog and helps to keep it running. Thank you.
Like us on Facebook – Tweet us on Twitter – Pin us on Pinterest