The Liar's House by Carla Kovach – Book Review
The Liar's House by Carla Kovach – Book Review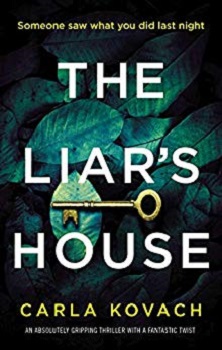 The Liar's House
Detective Gina Harte Book Four
Author – Carla Kovach
Publisher – Bookouture
Pages – 326
Released – 2nd July 2019
ISBN-13 – 978-1786818812
Format – ebook, paperback, audio
Reviewer – Stacey
Rating – 5 Stars
I received a free copy of this book.
This post contains affiliate links.
Samantha stumbled out of the party and on to a busy street only ten minutes away from her home. But she never made it home…
Seven years after Samantha's disappearance, on what would have been her thirty-fifth birthday, her best friend Diane is shocked to find a letter addressed to Samantha on her doorstep.
Opening the envelope, Diane pulls out a birthday card and a finger nail painted in dusky pink nail polish. The same shade Samantha always wore. The same shade she was wearing the night she went missing.
When police analyse the nail, they don't get the result they expected. Instead of linking them to Samantha, the nail belongs to another woman, Jade Ashmore. And Jade was murdered the night before the envelope was delivered….

Detective Inspector Gina Harte is back for book four in the series which follows the DI as she works through different investigations. I have only read one other in the series, book three 'Her Pretty Bones', which I also awarded five stars.
In book four Gina Hart is investigating the murder of Jade Ashmore. The young woman was attacked and killed in a residential street after attending a house party. It looks like the murderer was disturbed as he was seen trying to drag her body to a waiting car by a woman walking her dog.
Some seven years previously a young woman called Samantha went missing on her way home from a night out. Her best friend Diane has always believed that she had been killed but the case was left open a missing person case. The day after Jade is killed Diane is sent a birthday card addressed to Samantha on what would have been her thirty-fifth birthday, inside is a fingernail painted in the same colour that Samantha always wore, but analysis proves that the nail actually belonged to Jade and had been painted.
What could link these two cases some seven years apart? With numerous suspects can Gina and her team wade through the mountain of work to find their killer before he strikes again?
What I love about the Detective Inspector Gina Harte series is how much the book focuses on the case rather than the private lives of the detectives. Yes, there are some sections about Gina's private life, including her love life, but they don't overtake the plot of the case.
The writing is superb and draws you into the plot and the characters. There are plenty of twists, turns, and mysteries to keep you on your toes, although I did work out who the killer was early on in the story. This didn't put me off reading though as I was determined to prove to myself I was right and to watch the case come together.
The pace is fast throughout and there are a few grizzly or disturbing scenes, so if you don't like these kinds of scenes then maybe police crime thrillers aren't for you. However, I love them as they add authenticity to the story and make the book feel very real.
I really hope that there will be more to come in the series, as Gina is such an amazing character and Ms. Kovach's writing is spectacular – The perfect combination.
Book Reviewer – Stacey
Purchase online from:
---
About the Author

Carla Kovach was born in Birmingham, UK and now resides in Redditch, Worcestershire. Author of supernatural drama 'Flame,' psychological thriller 'To Let,' crime thriller 'Whispers Beneath the Pines,' and holiday comedy, 'Meet Me at Marmaris Castle.' Carla also writes stage and screenplays, some of which have been produced in the Worcestershire area. Her feature film 'Penny for the Guy' is being made and is set for release in 2019.
Her latest book, Her Final Hour, has been published by Bookouture. It is the second in the DI Gina Harte crime series.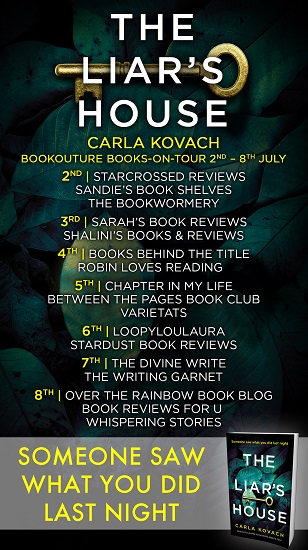 ---
The above links are affiliate links. I receive a very small percentage from each item you purchase via these link, which is at no extra cost to you. If you are thinking about purchasing the book, please think about using one of the links. All money received goes back into the blog and helps to keep it running. Thank you.