Her Pretty Bones by Carla Kovach – Book Review
Her Pretty Bones by Carla Kovach – Book Review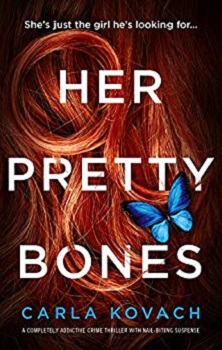 Her Pretty Bones
Detective Gina Harte Book Three
Author – Carla Kovach
Publisher – Bookouture
Pages – 316
Released – 17th January 2019
ISBN-13 – 978-1786816672
Format – ebook, paperback, audio
Reviewer – Stacey
Rating – 5 stars
I received a free copy of this book.
This post contains affiliate links.
She's just the girl he's looking for…
A young woman falls from a van speeding down a quiet road. Battered and bruised, she turns her head to the person who comes to her aid. 'Help her', she whispers before her eyes close.
Days later, the body of another young girl is found in a shallow grave just a few miles away. The similarities between the two girls are startling – same age, same frail body, same shocking red hair.
As the town fears there's a serial killer living amongst them, Detective Gina Harte must put aside her own struggles at home, and catch the killer before he finds another perfect girl.

Early one morning a young girl falls from a moving van on a country lane and is nearly hit by the car travelling behind. The driver stops and phones for an ambulance and the police. The girl is in a bad way. She is dirty, malnourished, and has injection marks on her body.
Detective Gina Harte and her team are called in to find out what happened to the girl but it doesn't look good for her and the doctors don't hold out much chance of her s. Then a body of a young girl in a similar state is discovered in a shallow grave just a few miles away from the first scene.
Gina suspects that there might be other young girls in a similar state locally and is determined to find them before another one turns up dead.
This is the third book in the Detective Gina Harte series and the first book that I have read from the series. I didn't feel like I was at a disadvantage by not reading the first two as this one was a completely different case and whilst there is some information about Gina's personal life it wasn't enough to make me feel lost.
The story begins with the prologue set in 1963 and with two little sisters falling out, then the book jumps forward to the present day. We follow Gina and her team as they try to discover what happened to the young girl who fell from the van. As another girls body is found the case opens up into more of a hunt for a killer and a place where he/she might be storing young girls.
We also meet a mother who is desperately searching for her daughter who ran away a few months ago and hasn't been seen or heard from since. Plus we also read about a young girl working at a farm shop who is feeling uneasy as she seems to be getting unwanted attention from a man – Could this be our culprit and intended next victim?
The plot is told in the third person and we get to read about numerous different characters who all play a part in solving the mystery, some bigger than others.
The book has plenty of twists and turns to keep you guessing. I enjoyed watching the detectives unravel the mystery and spent plenty of time guessing who the culprit might turn out to be.
Her Pretty Bones had me gripped to the pages. I read it in one day not wanting to put it down for a second. This is a book that will keep you wondering what on earth is going on and how does the prologue fit in with the rest of the story – You'll have to give it a read to find out.
Reviewed by Stacey
---
Purchase online from:
---
About the Author

Carla Kovach was born in Birmingham, UK and now resides in Redditch, Worcestershire. Author of supernatural drama 'Flame,' psychological thriller 'To Let,' crime thriller 'Whispers Beneath the Pines,' and holiday comedy, 'Meet Me at Marmaris Castle.' Carla also writes stage and screenplays, some of which have been produced in the Worcestershire area. Her feature film 'Penny for the Guy' is being made and is set for release in 2019.
Her latest book, Her Final Hour, has been published by Bookouture. It is the second in the DI Gina Harte crime series.


---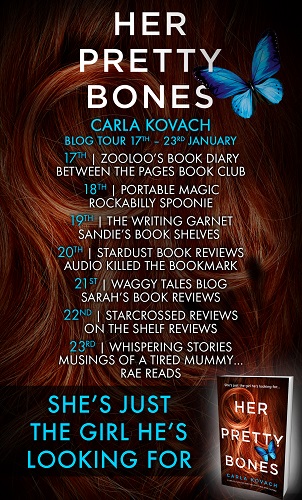 The above links are affiliate links. I receive a very small percentage from each item you purchase via these link, which is at no extra cost to you. If you are thinking about purchasing the book, please think about using one of the links. All money received goes back into the blog and helps to keep it running. Thank you.