Nothing But the Truth by Dick Lehr – Book Review
Nothing But the Truth by Dick Lehr – Book Review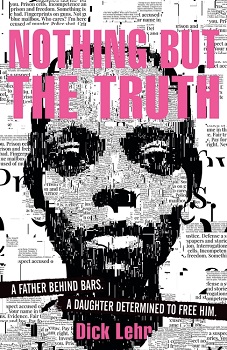 Nothing But the Truth
Author – Dick Lehr
Publisher – Walker Books
Pages – 336
Released – 3rd January 2019
ISBN-13 – 978-1406379846
Format – paperback
Reviewer – Stacey
Rating – 5 Stars
I received a free copy of this book.
This post contains affiliate links.
Inspired by the true story of a young man's false imprisonment for murder, this is a gripping novel about a daughter's fight for justice against the odds.
In his first book for teenagers, Dick Lehr, a former reporter for the Boston Globe's famous Spotlight Team, has re-imagined a case he investigated to create a compelling story about a daughter determined to prove her father's innocence. On a hot summer night in Boston, a thirteen-year-old African-American girl became the innocent victim of gang-related gunfire. Amid public outcry, an immediate manhunt was on to catch the murderer, and a young African-American man was quickly apprehended, charged, and – wrongly – convicted of the crime.
Trell was only a baby when her father was imprisoned, but she has always been certain of his innocence. Twelve years after his conviction, she persuades a down-on-his-luck reporter and a determined lawyer to help clear her father's name. As they attempt to uncover back-door deals, track down crucial witnesses and unearth vital evidence that will prove her father's innocence, it becomes clear that some people in the neighbourhood want to keep this information hidden – at any cost.

Fourteen-year-old Van Trell Taylor (Trell) has been brought up by her mum Shey, on one of Boston's roughest estates. She sees her father, Romero Taylor, every Saturday at the state prison where he has been for the last twelve years after he was convicted for shooting dead a young teenage girl called Ruby Graham, who was in the wrong place at the wrong time.
Romero had always protested his innocence and convinced a new lawyer, Nora Walsh to look at his case. Trell was convinced that her daddy was innocent too, so helped Nora file an appeal for a retrial. However, a judge dismissed the chance for a second trial. With no-where else to go with their appeal, they decided to have a journalist take a look at the case and see what he could uncover.
On the night of Ruby Graham's murder, a reporter for the Boston Globe, Clemens Bittner, was dealing with his own grief, the death of his son. He was once a top journalist but the grief hit him hard and now he does the night-shift and avoids people. Trell needs Clemens to help her. She knows he's the best reporter and that he will get to the truth. With enough badgering, he agrees to take a look.
Trell, with the help of Clemens, Nora and her mum realise that her father's case isn't straight-forward and it is going to take some digging to get to the truth, especially when it seems that someone is determined not to let the truth be outed.
Nothing But the Truth is a fictional story surrounding a real case back in 1988, the shooting of Tiffany Moore and the incarceration of Shawn Drumgold for her murder. Author Dick Lehr was a journalist for the Boston Globe when people began asking him to look at the case. He discovered evidence that the police has been rash to place the blame on Drumgold and in 2003 he walked free from prison acquitted of her murder.
You can certainly tell that the book has been written by a journalist. From the short chapters covering different aspects of the case to the way it has been worded is like a journalists report. This type of writing I enjoy.
Trell was a great character who was determined to stand up for her father and uncover the truth. She doesn't hold back on the fact that her father wasn't the nicest man, nor innocent of other crimes, but she knows that he didn't kill Ruby and will stop for nothing to prove that he wasn't the person who pulled the trigger.
Along the way you get to read about a corrupt government official whose only concern is getting to the top and the way the police were manipulated as well as witnesses threatened. The police needed to get the case wrapped up quickly as they needed to be seen taking a stand and it didn't matter to them that they might have the wrong person.
This is a powerful book told from the point of view of a young teenage girl. It was lovely to see a young black girl from a rough estate being portrayed as a well educated and well mannered young lady with sheer determination to put right a wrong. The book isn't all about police bashing, it's about uncovering the truth and discovering why her father was chosen to be the one to take the blame.
This is a book not to be missed. It speaks volumes and will open your eyes to the world around you and will show what it sometimes takes to see justice done.
Reviewed by Stacey
---
Purchase online from:
---
About the Author

Dick Lehr, an award-winning journalist and Pulitzer Prize finalist, is the co-author, with Gerard O'Neill, of Black Mass, a New York Times bestseller about Boston crime boss Whitey Bulger. It was later made into a film starring Johnny Depp.
His most recent book is The Birth of a Movement, which Booklist deemed in a starred review "a remarkable look at the power of mass media and the nascent civil rights movement at a pivotal time in American history." The book was adapted into a PBS documentary that aired on the network's primetime show, Independent Lens, in February 2017. Dick Lehr now teaches journalism at Boston University. He lives near Boston.



---
The above links are affiliate links. I receive a very small percentage from each item you purchase via these link, which is at no extra cost to you. If you are thinking about purchasing the book, please think about using one of the links. All money received goes back into the blog and helps to keep it running. Thank you.