Superhighway by Alex Fayman – Book Review
Superhighway by Alex Fayman – Book Review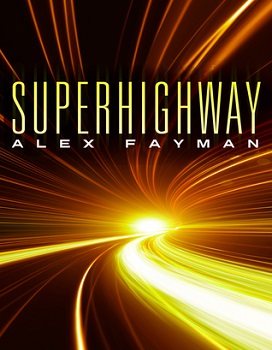 Superhighway
Superhighway Trilogy Book One
Author – Alex Fayman
Pages – 255
Release Date – 18th August 2015
Format – ebook, paperback
Reviewer – Stacey
I received a free copy of this book

Alex Fine is a gifted eighteen-year-old with an extraordinary ability to transport himself through the optical passageways of the Internet. While inside the digital web, Alex is capable of downloading databases, manipulating archived data, and traveling to any destination in the world.
Alex discovers his powers just as he is ready to enroll in his freshman year at a prestigious West Coast university, causing an unexpected detour in his plans. In a short period of time, Alex Fine becomes one of the richest people in the world, with virtually limitless power. In a hastily arranged scheme, Alex becomes a digital Robin Hood, as he steals money from a criminal oligarch to fulfill his philanthropic goals.
It is the story of a young man who wants to use his powers for good, but makes mistakes en route to discovering the truth behind his supernatural abilities.

18 year old Alex Fine has found himself with a novel super power, one which I don't think has been found before. He can travel through the internet to every computer around the world.
Now this might not sound that interesting, nor that super, but when you realise everything that Alex can have access to, your bank details, military weapons codes, flight plans, just about anything that you store your data on, you will see just how 'super' he can become.
However Alex decides to use his new-found power for good. He has become a modern-day 'Robin Hood', as he removes money from criminals' accounts to help those in need.
Alex is a lovely young man. He is fiercely loyal and loving, which I put down to his early life, in which he was brought up in an orphanage after his parents tragically died.
His life changes dramatically when he discovers he can travel to exotic places, and become very, very rich, all via the power of the World Wide Web, though I wasn't too keen on the 'new' Alex.
The book is uniquely different to anything I have ever read before, and completely relevant to the modern time that we live in, where billions of people have access to the internet all over the world.
The idea that someone could travel via the optical passageway will have young adults hooked, and most probably wishing that they could do the same thing.
Superhighway is an ultra-slick novel, that if you love Sci-Fi's, this is the perfect book to get your mind whirling.
Book reviewed by Stacey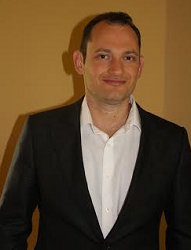 At the age of 12, I arrived to the United States as a refugee from the former Soviet Union. It was the most important moment of my life.
I grew up and finished high school in Los Angeles before moving to Illinois for my college years. LA had too many distractions to focus on school. From age 19 to 29, I earned a bachelors degree in biology, a master of business administration, and a PhD in finance.
For the past 10 years, I have been working as a college professor, enjoying my time in the classroom and publishing articles in the fields of finance and economics.
Superhighway is my first experience writing a novel. The ability to touch a large number of people is my reward, inspiration and goal.
Author Links