Just Like Rebecca by Tilly Tennant – Book Review
Just Like Rebecca by Tilly Tennant – Book Review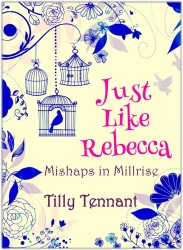 Just Like Rebecca
Mishaps in Millrise Book Two
Author – Tilly Tennant
Pages – 92
Release Date – 18th June 2015
Format – ebook
Reviewer – Stacey
Rating – 4 Stars
I received a free copy of this book

Phoebe's new role at work is keeping her busier than ever. Just as she's finding her feet, however, new boss, Dixon, lands a bombshell: Hendry's toy store is in dire financial straits and it's up to him and Phoebe to save it.
This isn't exactly what she signed up for and she's going to need all the help she can get. So it's a pity that the only help she has comes in the form of Midnight, her purple-haired colleague who wouldn't know an employee rule-book if it slapped her in the face…
At home, Jack's brother, Archie, and their mum, Carol, seem determined to make Phoebe's life hell, however hard she tries.
And now Jack seems to have a new rival too: Adam Hendry, slick heir to the Hendry's empire, who is making it very clear he'd like to involve Phoebe in a hostile takeover. Just how far will he go to get what he wants?

Once again we are back in the town of Millrise, with Phoebe, Jack and Maria. 'Just Like Rebecca', continues straight on from part one 'Little Acts of Love'.
Since the ending of 'Little Acts of Love', where it looked like Jack and Phoebe's relationship may have been over, the couple are back together and Jack has decided to be more open with Phoebe, which was the main issue between them.
Phoebe's new job in the PR department of Hendry's toy store has just become stressful when she learns that Hendry's are in financial trouble, and are relying on the PR department (Phoebe and Dixon) to save them from going under.
Life outside of work is proving just as stressful, as Jack's younger brother Archie is staying at Jack's house, causing more problems for the couple. With the inevitable 'lunch with the parents' looming, Phoebe is feeling the pressure that Jack's mum won't accept her, as she has never got over losing her daughter-in-law Rebecca, and feels that Phoebe is trying to replace Rebecca.
Can Phoebe save Hendry's, her relationship, and get acceptance from Jack's family?
I like Phoebe, even if she does try too hard to please every one. She is warm and kind and the sort of person who would make an amazing best friend.
I do however find her frustrating when it comes to Jack, as I feel like their relationship is one-sided, with Phoebe doing all the giving and trying to make it work, whilst Jack sits back and does all the taking. I'm not so convinced that they would still be together if it wasn't for Jack's daughter Maria, as Phoebe has bonded with the young girl and is trying to be a 'mother figure' to her after Rebecca.
Jack is a character that I thought was quite nice in the first book, and the love that he has for Phoebe poured off the pages, but not in this book. I found myself getting really irritated and annoyed by him. I had hoped that when it came to his family, especially his mother and his brother, Archie, that he would learn to have a backbone and stand up to them, rather than let them dictate his life.
Then we have Archie – Wow, what a 19 year old brat he is! He's a liar, lazy, and two-faced, all rolled into one young man with a bad attitude. The lad needs a good swift kick up his backside, and to learn how to stand on his own two feet, instead of expecting everyone else to fight his battles for him.
The novella once again features the brilliantly funny Midnight, who I loved in the first book. Although there were some amusing scenes, such as the 'Mr Frosty' scene, Midnight didn't really have a main role this time, which is something I missed.
Phoebe decides that a Cosplay party at Hendry's is a good idea and with the help of Midnight, makes the day a success, though we learn that Midnight has a fear of heights and Phoebe has to step into the role of 'Cat woman' for a roof top show, with a little more action than she bargained for.
I enjoyed the book immensely, but felt that it didn't quite live up to the first book Little Acts of Love, but it is nice to see the story evolve and to follow Phoebe's life.
I can't wait for the third book 'The Parent Trap'. I hope that Jack realises what a wonderful woman he has got in Phoebe, and learns to appreciate her more.
Book Reviewed by Stacey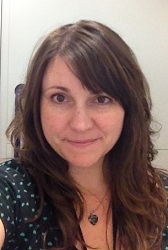 Tilly Tennant was born in Dorset, the oldest of four children, but now lives in Staffordshire with a family of her own.
After years of dismal and disastrous jobs, including paper plate stacking, shop girl, newspaper promotions and waitressing (she never could carry a bowl of soup without spilling a bit), she decided to indulge her passion for the written word by embarking on a degree in English and creative writing, graduating in 2009 with first class honours.
She wrote her first novel in 2007 during her first summer break at university and has not stopped writing since.
She also works as a freelance fiction editor, and considers herself very lucky that this enables her to read many wonderful books before the rest of the world gets them.
Hopelessly Devoted to Holden Finn was her début novel; published in 2014 it was an Amazon best-seller in both the UK and Australia. It was followed by Mishaps and Mistletoe and The Man Who Can't Be Moved.
Author Links