The Neighbours by Nicola Gill – Book Review
The Neighbours by Nicola Gill – Book Review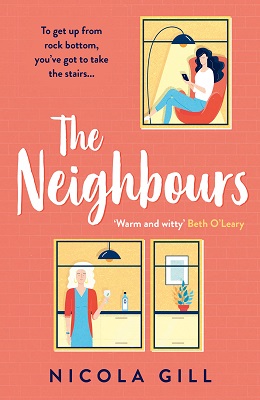 The Neighbours
Author – Nicola Gill
Publisher – Avon
Pages – 400
Released – 6th February 2020
ISBN-13 – 978-0008355395
Format – ebook, paperback, audio
Review by – Stacey
Rating – 4 Stars
I received a free copy of this book.
This post contains affiliate links.


To get up from rock bottom, you've got to take the stairs…
Some women have it all. Others are thirty-four and rent a tiny flat alone because they recently found their long-term boyfriend in bed with their boss. Ginny Taylor is certain her life can't get any worse. But then she meets her downstairs neighbour…
Cassie Frost was once a beloved actress, but after a recent mishap she desperately needs a new publicist. And Ginny is a publicist who desperately needs a job – but can she be persuaded to work for the prickly woman who lives below her floorboards?
Ginny and Cassie are two very different women, but they have more in common than they'd care to imagine (or admit). And when their worlds collide, they realise that sometimes – just sometimes – bad neighbours become good friends…

Thirty-four-year-old Ginny has had the worst week of luck. First, her best friend moves out of the flat they shared for a swanky new job in America. Then she comes home to find her boyfriend in her flat and he's not alone, he's caught in the act with her boss of all people, and now she has lost her PR job too.
Fifty-five-year-old Cassie was once a loved actress, now after a stint on I'm a celebrity in which she came across as rude, obnoxious and completely horrible the public has turned on her.
The two women live in the same block of flats and with Cassie now needing a PR specialist and Ginny being out of work, can they help one another out? How will these two, very different women cope with one another and can Ginny make the public see another side to Cassie? – That's if she has one!
The Neighbours was an enjoyable read though it did take me quite a few chapters to get into it and warm to the characters. The plot is amusing in parts and it was fun to watch these two women who are like chalk and cheese work together. There were also some poignant moments and sections that focused on mental health that was written exceptionally well.
There were parts within the book that I felt were there to pad it out, such as Ginny's new flat-mate and her boyfriend. I didn't feel they added much to the story or that I particularly found them likeable, they were just there if you get where I'm coming from.
I did find that the more I read the more I could emphasis with both women and that it was wonderful to see them both grow as individuals as well as form a lovely friendship. You also get to see under the wooden exterior of Cassie. It is lovely to read about two women who though very different were both plausible and realistic.
This is a book about how friendship can be formed even in the most unlikely situations and with people who seem the polar opposites of one another. Sometimes you need someone different to you to make you understand more about yourself and to show you another side to life.
Book Reviewer – Stacey
---
Purchase online from:
---
About the Author
Nicola Gill lives in London with her husband and two sons. At the age of five, when all of the other little girls wanted to be ballet dancers, she decided she wanted to be an author. Her ballet teacher was very relieved. The Neighbours is her debut novel.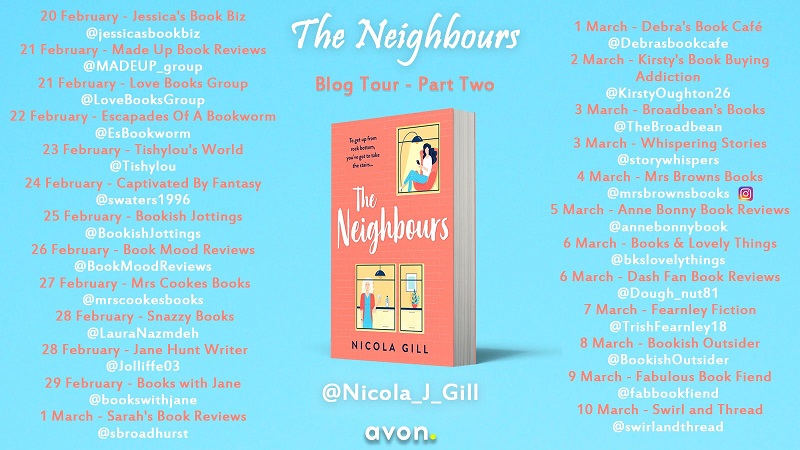 ---
What did you think of The Neighbours? Share your thoughts in the comment section below!
---
The above links are affiliate links. I receive a very small percentage from each item you purchase via these link, which is at no extra cost to you. If you are thinking about purchasing the book, please think about using one of the links. All money received goes back into the blog and helps to keep it running. Thank you.
Like us on Facebook – Tweet us on Twitter – Pin us on Pinterest