Belvedere Crescent by Misha M. Herwin – Book Review
Belvedere Crescent by Misha M. Herwin – Book Review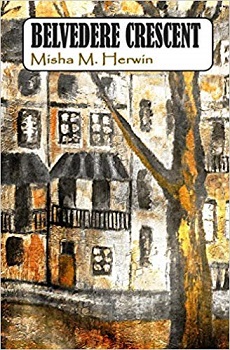 Belvedere Crescent
Author – Misha M. Herwin
Publisher – Penkhull Press
Pages – 296
Released – 28th February 2020
ISBN-13 – 978-1916437340
Format – ebook, paperback
Review by – Marcia
Rating – 4 Stars
I received a free copy of this book.
This post contains affiliate links.


Abandoned as babies, twins Sadie and Thea have been brought up by Great-Aunt Jane. When Jane dies they inherit her house in Belvedere Crescent. The only home they have ever known, it is a place where time slips and slides, and what once might have seemed safe is revealed to be full of dark secrets and hidden dangers.

When they were just babies, twins Thea and Sadie were abandoned by their mother and their Great-Aunt Jane brought them up. The book opens with the twins now adults waiting at their aunt's house situated in Belvedere Crescent for her to die as they have been told she only has a matter of hours left.
The women don't seem particularly upset that their Aunt is knocking on death's door, in fact, they seem to be pleased which made me wonder what their aunt was like for them to behave in that manner.
After their aunt's death, the twins decide to sell the house as they do not need it anymore, but the house isn't quite done with them yet. The house has lots of secrets and it is about to reveal.
I really enjoyed Belvedere Crescent which surprised me because of the subject matter. I usually stay clear of books featuring the supernatural, but this one intrigued me. I particularly liked the relationship between Thea and Sadie who for twins might look alike but that is where their similarities end.
I was hooked from start to finish. I wanted to know how all the people we are introduced to are related, or not, and that was more than enough to keep me reading to the very end, as well as wanting to know all the family secrets.
The book had a nice pace and the characters fitted the storyline perfectly and were enjoyable to spend my days with. There is a lot going on within the pages including a lot of emotions to contend with too.
The story is certainly different, unique even. It is well worth a read, especially if you love character-driven novels with a supernatural, plausible theme.
Book Reviewer – Marcia
---
Purchase online from:
---
About the Author

Misha M. Herwin lives in Staffordshire, in a house with a dragon in the garden. She grew up in Bristol and has always been fascinated by the Clifton Suspension Bridge, which is where this story started.
When she is not writing the next Letty adventure, Misha enjoys reading, spending time with her family and baking raspberry muffins.




---
What did you think of Belvedere Crescent? Share your thoughts in the comment section below!
---
The above links are affiliate links. I receive a very small percentage from each item you purchase via these link, which is at no extra cost to you. If you are thinking about purchasing the book, please think about using one of the links. All money received goes back into the blog and helps to keep it running. Thank you.
Like us on Facebook – Tweet us on Twitter – Pin us on Pinterest