The Land of Lost Things by John Connolly – Book Review
The Land of Lost Things by John Connolly – Book Review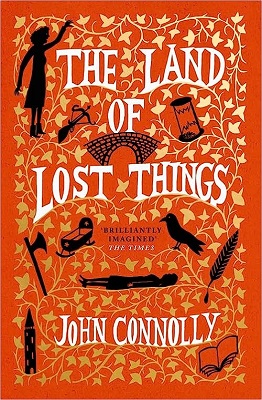 The Land of Lost Things
Author – John Connolly
Publisher – Hodder & Stoughton
Release Date – 7th September 2023
Pages – 413
ISBN 13 – 978-1529391800
Format – ebook, paperback, hardcover, audio
Star Rating – 4
I received a free copy of this book.
This post contains affiliate links.

Synopsis
Twice upon a time – for that is how some stories should continue . . .
Phoebe, an eight-year-old girl, lies comatose following a car accident. She is a body without a spirit, a stolen child. Ceres, her mother, can only sit by her bedside and read aloud to Phoebe the fairy stories she loves in the hope they might summon her back to this world. But it is hard to keep faith, so very hard.
Now an old house on the hospital grounds, a property connected to a book written by a vanished author, is calling to Ceres. Something wants her to enter, and to journey – to a land coloured by the memories of Ceres's childhood, and the folklore beloved of her father, to a land of witches and dryads, giants and mandrakes; to a land where old enemies are watching, and waiting.
To the Land of Lost Things.
The Land of Lost Things is the sequel to The Book of Lost Things which was released in 2006. I haven't read the first book, nor any other works by the author, but given that The Land of Lost Things is more of a related book than a direct sequel I didn't feel I needed to, however, after enjoying this read I will have to pick it up at some point.
The story begins with a young girl lying in a coma in hospital. She has been asleep for months and her worried mother Ceres sits at her bedside. Given the girl's status, the hospital wants to move her to a place that can look after her better, a place that would see her mother returning to the cottage she grew up in.
On the new hospital grounds is a property that once belonged to an author who vanished many years ago and Ceres discovers a copy of the author's fairy tales which spikes her interest in the author's life and so she sets out to discover more but ends up in his fantasy world.
What I love most about The Land of Lost Things is how perfectly normal and abnormal it is. The plot starts off with the helpless feeling of a mother who loves her daughter so much yet her daughter is currently just like a doll to her. Ceres is struggling. She has no one to turn to, although part of her likes being alone. Then we have the strangeness of the book as we move into the realms of witches, fairies, fae, etc. Both parts are perfectly blended.
If you have read the first book and enjoyed it then you need to read this one. If you like weird, yet poignant books that have plenty of life lessons, then you need to read this book. It is a bit of a slow-burner but totally fixating. I adored the book from beginning to end. Yes, it took me a while to get through it but it was nice to take in the plot slowly and savour every moment.
---
Purchase Online:
John Connolly

John Connolly is author of the Charlie Parker mysteries, The Book of Lost Things, the Samuel Johnson novels for young adults and, with his partner, Jennifer Ridyard, co-author of the Chronicles of the Invaders. John Connolly's debut – EVERY DEAD THING – introduced the character of Private Investigator Charlie Parker, and swiftly launched him right into the front rank of thriller writers. All his subsequent novels have been Sunday Times bestsellers. He was the winner of the 2016 CWA Short Story Dagger for On the Anatomization of an Unknown Man (1637) by Frans Mier from NIGHT MUSIC: Nocturnes Vol 2.
In 2007 he was awarded the Irish Post Award for Literature. He was the first non-American writer to win the US Shamus award and the first Irish writer to win an Edgar award. BOOKS TO DIE FOR, which he edited with Declan Burke, was the winner of the 2013 Anthony, Agatha and Macavity awards for Best Non-Fiction work.
Author Links:
---
The above links are affiliate links. I receive a very small percentage from each item you purchase via these links, which is at no extra cost to you. If you are thinking about purchasing the book, please think about using one of the links. All money received goes back into the blog and helps to keep it running. Thank you.