Never Again by Nicky Clifford – Book Review
Never Again by Nicky Clifford – Book Review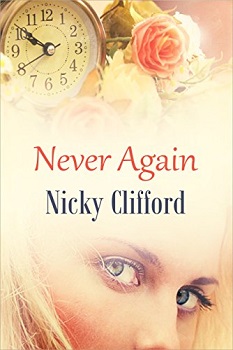 Never Again
Author – Nicky Clifford
Pages – 364
Release Date – 21st October 2016
ISBN 13 – 978-0995615311
Format – ebook, paperback
Reviewer – Jodie
I received a free copy of this book
Post Contains Affiliate Links

Mountains, Mystery, Romance: Can you run from your past?
Harriet Anderson's life is spiralling out of control. Unused to such mayhem, she ditches her high-powered job to take refuge in the Swiss Alps where she meets Philippe Smith, a crime writer with a dark and shadowy past.
Thrown together by chance, is their fate intertwined? Will the karma and romance of the mountains and the quaintness of the Alps soothe their troubled souls? Or will their rocky paths create avalanches that cannot be avoided…

Set mainly in Wengen, Switzerland, we are first introduced to Harriet. She has left life in England behind her. A cheating boyfriend to get over and still mourning the loss of her mum, Harriet begins working as a waitress in the hotel Neueranfang. There she meets the rather aloof and attractive Philippe. Life will never again be the same for either of them. Their pasts catch up with them and truths get exposed. This causes an avalanche of events that appear to test whether they belong together.
The first few chapters reel you in. There are snippets of Harriet's past. It isn't altogether clear what exactly has gone before but it keeps you hooked. The story is sad in parts. Harriet has not long lost her mum to cancer, so she's fragile and vulnerable. Her soul seems tinged with defeat. She has to dig deep to find her fighting spirit at times and it doesn't always appear that she'll win. Philippe's suffered too but in different ways and he has to find himself again.
Philippe and Harriet clash when they first meet. There are assumptions and misunderstandings aplenty. There is heartache for both of them throughout the story. They attempt to overcome many hurdles – but can they? With so many surprising twists in the story, you can't predict how the story will end.
There is a wonderful array of characters: There's the lovely Elspeth. She is a wise elderly guest at the hotel who strikes up a beautiful friendship with Harriet. Toby, a likeable and strong-minded little boy who has more wisdom than some adults. Greg, Harriet's ex-boyfriend, he conjured an image of Billy Zane portraying Cal in Titanic: single-minded, selfish, and very manipulative. There's Becky, a colleague at the hotel. Everyone has come across a Becky at least once in their life. She's blonde, ambitious, attention-seeking, cunning, bitchy, and damn anyone in the way. In my head she looked a bit like Paris Hilton.
A character I adored was Sophie, Philippe's younger sister. She's a troubled soul when we are first introduced to her. She's causing heartache for her family due to a drink problem. Yet there is something very innocent and likeable about her. Philippe and his parents try hard to help her but they know she has to want to help herself before anyone else can.
The theme of family features a lot in the story. Family isn't always about a bloodline. It's about belonging and becoming a family no matter who you are.
Never Again is a fantastic and absorbing debut novel by Nicky Clifford. Clifford's writing is grabbing, and it held my attention throughout. The characters, the setting, and the story were all written with finesse. It sounds like a cliché but I couldn't put the book down!
Book reviewed by Jodie
Purchase Links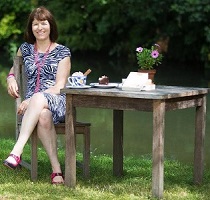 Writing has always been a passion for Nicky Clifford and as a student she penned poems, short stories and articles, many of which were successfully published. But a lack of confidence in her novel writing led her to follow a different career path and for many years she worked in the corporate world of HR & Training.
Now with her sons having reached their teens and with her husband's encouragement, Nicky has decided to focus on her writing once again and, glued to her writer's chair, has completed three novels. Her debut novel, Never Again, is the first to be published and hits the contemporary romance shelves this autumn. The book is set in her home county of Berkshire and also in the Swiss Alps where Nicky has many happy memories, having worked there in her student days.
As well as dedicating her time to writing, Nicky also works part-time for a local charity. She will make a donation from the book royalties to the charities, Auticulate and Childhood Tumour Trust. Having completed a writing course at Reading University, she is a member of her local writing group which she says, were staunch in their support and have helped enormously in encouraging Nicky to launch her first book.
Nicky was a keen ice-skater, managing to perfect backwards crossovers, mohawks and one foot turns, but has recently hung up her boots to spend more time relaxing with her friends and family at home in Berkshire.
Author Links