What She Knew by Nadine Galinsky Feldman – Book Review
What She Knew by Nadine Galinsky Feldman – Book Review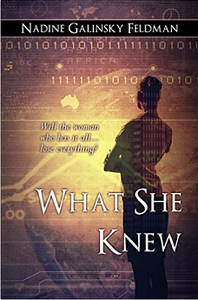 What She Knew
Author – Nadine Galinsky Feldman
Publisher – CreateSpace
Pages – 238
Release Date – 29th February 2016
Format – ebook, paperback
Reviewer – Bhakti
I received a free copy of this book
Post Contains Affiliate Links

Liz Nabor is driven, intelligent, and ambitious. She's built a successful Wall Street career, has a gorgeous boyfriend, and enjoys a glamorous Manhattan lifestyle.
But the financial crisis of 2008–2009 brings added pressure to perform, and Liz's boss expects her to meet company goals…whatever it takes.
When the infamous Bernie Madoff confesses to a multibillion-dollar Ponzi scheme, Liz finds herself dragged into the swirl of the scandal. Suddenly her career is in danger of crashing along with the economy.
While making a plan to revitalize her professional life, a family crisis emerges far from home in western Washington. Torn between two coasts, Liz must confront unhealed family wounds as she struggles to clear her name. Will the woman who has it all lose everything?
What She Knew examines the ethical and moral boundaries of ambition and the power of family relationships to hurt or heal.

I have a confession to make before I start my review. When I was offered this book, I had a busy schedule and because of which I made a blooper(my first, and I'll make sure it's the last time too.) I read a synopsis of a book with similar title, from other author and applied for this book. I am not sure if I would have applied for this book if I had read the correct synopsis, and that's the reason I am glad I made this mistake.
Liz Nabor is a successful wealth manager with decades of experience on Wall street, but with the financial depression tearing up big firms and people losing not just their money but also their lives, Liz finds herself surrounded by trouble. Things get tricky when the firm she works for stops backing her and everyone is accusing her of fraud.
At one end Liz is stuck with legal battles, and on other end her only aunt is dying. Liz who has not spoken to her aunt for decades feels unprepared to even be breathing under same roof as her. Then there's Rick, her boyfriend who suddenly doesn't want to talk to her. Barbara, her sister isn't interested in her sister's life and doesn't really care if Liz loses her job, or the economy is sinking.
Will Liz make peace with her aunt? Will she able to prove her innocence?
Somewhere in chapter two I realised my mistake, but I was already interested in this book by then so I proceeded with my reading. The book is easy to understand, even though it deals with financial issues, due to the fact that it doesn't uses to many confusing financial terms, or bore you in any way with technical details.
The pace in the book is steady from page one until around the last 15-20 pages, then the pace picked up dramatically.
As I started with zero knowledge about the this book, I also had zero expectations. Chapter after chapter my expectations grew. Unfortunately I felt that I was let down at the last few pages, when the story was rushed towards the ending, and I hate it when endings are rushed.
Overall What She Knew is a great book that I'm sure you will like. Sometimes mistakes pay off!
Book Reviewed by Bhakti
Purhase Links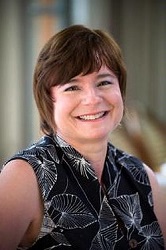 Nadine Galinsky Feldman is the author of What She Knew, which the US Review of Books describes as "a wonderful balance of a human-interest tale, romance, and history, €"all wrapped up in a riveting thriller."
She also wrote The Foreign Language of Friends, a novel that reflects the loneliness of city life. FLOF was a finalist in the 2012 Next Generation Indie Book Awards and a gold medal winner in the 2011 eLit Book Awards.
As an editor, Feldman's work on Patchwork & Ornament: A Woman's Journey of Life, Love, and Art by Jeanette Feldman, garnered a win of the 2010 Indie Excellence Book Awards, Memoir Category.
She wrote When a Grandchild Dies: What to Do, What to Say, How to Cope after having both a miscarriage and stillbirth in nine months. WGD is a tribute to the grandparents who suffer a dual grief, including her own parents.
Nadine divides her time between a small town on the Olympic Peninsula and New York City. She enjoys travel, health and fitness, gardening, and genealogy.
Author Links