Don't Worry, Everything Is Going To Be Amazing by Billy Moran – Book Review
Don't Worry, Everything Is Going To Be Amazing by Billy Moran – Book Review
Don't Worry, Everything Is Going To Be Amazing
Author – Billy Moran
Publisher – Sauce Materials
Pages – 349
Release Date – 15th September 2020
ISBN 13 – 978-0992767815
Format – ebook, paperback
Review by – Stacey
Rating – 4 Stars
I received a free copy of this book.
This post contains affiliate links.


Chris Pringle: simpleton, casualty or local hero?
Propped up by biscuits, benefits and a baffling faith in his plan, he lives in a world where every day is obsessively the same: wedged in his recliner, watching murder mysteries, taking notes. Until the day a serious and peculiar crime stumps the local police – and Chris announces he can solve it.
Accompanied by a loyal crew of chancers, committed to making amends, and pursued by a depressed Detective Inspector, trying to join the dots, Chris heads back to the raves of his past, where a heartbreaking personal tragedy lies abandoned. But what exactly is Chris Pringle looking for? Has he really worked out the way to find it? And what will happen if he does?

Chris Pringle loves detective programs on TV. He knows all of them and has watched and scrutinised each one methodically. He has watched them over and over for so long that Chris thinks he is a detective. He has even turned his new council bungalow in his personal incident house, with an interview room and more.
When a community initiative to help the locals trust the police is launched, Chris is there to help aging Detective Inspector Graham Kaye with his current investigation that is causing him issues with the lack of clues. Armed with the knowledge and know-how of dozens of TV detectives, this is right up Chris's street, but can he solve the case?
Don't Worry, Everything Is Going To Be Amazing is certainly a unique book. The storyline moves back and forth in time between 1992 and the present day. In 1992 Chris and his friend Runcie were big on the clubbing/raving scene. They spent a lot of the years off their heads. Runcie was also a drug dealer.
The present-day Chris has just moved into his new council-owned bungalow. He's living on benefits and sees the world differently to most other people. He lives, breathes, and works TV detectives. Runcie is still around and still Chris's best friend.
I'm not going to pretend that this book was an easy read as is wasn't, it is like talking to someone high on drugs or alcohol and they are talking incoherently, it's feels a little bit chaotic, especially at beginning. The first few chapters I read three times before I understood them, even then some chapters later I had to concentrate hard on, mainly those set in 1992, which I was surprised about given I'd lived through the rave scenes of the 90s.
It is certainly a different kind of crime mystery. Chris comes across as someone a little slow (in the words of the book), and so he isn't someone you would expect the police force to want to help them, never mind be capable of solving the case. He wants to solve the case and enjoys finding the answers, especially when others can't work them out. The book has a lot of humour to it and the characters work well together both in the past and present.
If you are a fan of unusual books with strange but realistic characters and lived through the 90s rave scene then this book will be right up your street.
Book Reviewer – Stacey
---
Purchase online from:
---
About the Author

Billy Moran is an award-winning television writer for shows including Horrible Histories. He grew up in the West Country, where his teenage years were rudely interrupted by the Second Summer of Love. Since then he has been embracing mysteries, craving solutions and writing lots of lists.
He lives in London and has two children, two cats, one football team and several favourite detectives. Don't Worry, Everything Is Going To Be Amazing is his debut novel.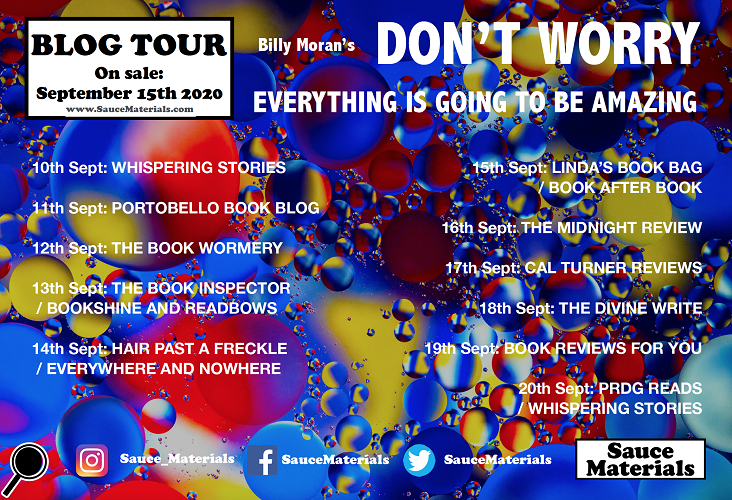 ---
What did you think of Don't Worry, Everything Is Going To Be Amazing? Share your thoughts in the comment section below!
---
The above links are affiliate links. I receive a very small percentage from each item you purchase via these link, which is at no extra cost to you. If you are thinking about purchasing the book, please think about using one of the links. All money received goes back into the blog and helps to keep it running. Thank you.
Like us on Facebook – Tweet us on Twitter – Pin us on Pinterest