Nine Elms by Robert Bryndza – Book Review
Nine Elms by Robert Bryndza – Book Review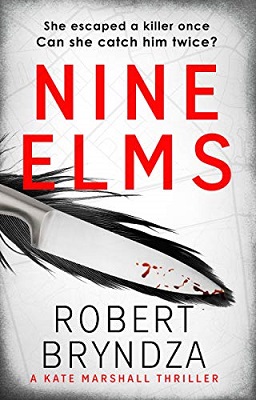 Nine Elms
Kate Marshall Book One
Author – Robert Bryndza
Publisher – Sphere
Pages – 416
Released – 9th January 2019
ISBN-13 – 978-0751572728
Format – ebook, paperback, hardcover, audio
Review by – Stacey
Rating – 5 Stars
I received a free copy of this book.
This post contains affiliate links.


From the breakthrough international bestselling author of The Girl in the Ice, a breathtaking, page-turning novel about a disgraced female detective's fight for redemption. And survival.
Kate Marshall was a promising young police detective when she caught the notorious Nine Elms serial killer. But her greatest victory suddenly became a nightmare.
Fifteen years after those catastrophic, career-ending events, a copycat killer has taken up the Nine Elms mantle, continuing the ghastly work of his idol.
Enlisting her brilliant research assistant, Tristan Harper, Kate draws on her prodigious and long-neglected skills as an investigator to catch a new monster. But there's much more than her reputation on the line: Kate was the original killer's intended fifth victim . . . and his successor means to finish the job.

Have you ever watched a movie when the tension is picking up, something bad is about to happen and you sit shouting at the screen 'don't open the door' or 'don't let him in', as you know what will happen next in the scene if they do? Well, Nine Elms gave me this reaction right from the start.
The book begins fifteen-years before the main plot when Kate Marshall was a police detective working the Nine Elms Cannibal Case in which a serial killer is targeting young women, not only does the killer strangle his victims using a distinctive rope knot, he then leave them in the open, posing their bodies and takes bite out of his victims too.
Through a mishap, Kate realises who the killer is just before he tries to make her his fifth victim. She just about gets away with her life, but not without lots of injuries and her reputation as a detective in tatters. Now, fifteen years later she is a university criminologist lecturer at Ashdean. The killer is in prison where he will spend the rest of his life.
Kate receives an email from a couple whose daughter went missing in 1990, they believe that she may have been one of the first victims of the Nine Elms Cannibal and would like Kate to take a look at her case. She is also called to a mortuary where a body of a young girl lies after being discovered in woodland, posed, strangled and bitten. It looks like there is a copy-cat killer on the loose and they are following the same pattern as the original killer which means Kate could end up being the fifth victim, again, but will she be so lucky this time?
Nine Elms is the first book by Robert Bryndza that I have read. I know of his Erika Foster series and even own a couple of the books but I've never gotten around to reading them, shame on me because if they are anywhere near as good as this one I really must.
Kate is a great character, she has been through so much in her life. After nearly being murdered, it turned out that she was pregnant with the killer's child and by the time she awoke in the hospital after the attack and subsequent surgeries it was too late to abort. She lost her job because of her relationship with the killer too. Everything got too much for her mentally and she took to alcohol to numb her pain. She has been sober for six years now, her son still lives with her parents after she was unfit to look after him when drinking.
The book is dark and you can feel the tension radiating off the pages. It is very addictive and most certainly gripping, helped by the fact that it is fast-paced with short chapters which I always feel gives it an even faster plot feel and makes you want to keep on reading.
The suspension is terrifying at times yet it is a book I just couldn't put down I need to know more and see where it would all end. I now can't wait for more books in this series as I think Kate has great potential and she has proven that she has amazing detective skills. I also hope that we find out more about her young assistant Tristan in subsequent books too.
Book Reviewer – Stacey
Click the link to read an extract from chapter one – www.thecrimevault.com.
---
Purchase online from:
---
About the Author

Hello, I'm Robert Bryndza. I'm a crime writer and my books have sold 3 million copies, and they've been translated into 28 languages. I'm British and live in Slovakia.
My new novel, Nine Elms, the first in my Kate Marshall private detective series has just been published!
I'm the author of the international #1 bestseller THE GIRL IN THE ICE, which is the first in my Detective Erika Foster series, and to date, it has sold over one million copies. There are six books (so far) in the Erika Foster series, and they can be read as a series, and also work as stand-alone books, so can be read in any order.
In addition to writing crime fiction, I have published a bestselling series of romantic comedy novels.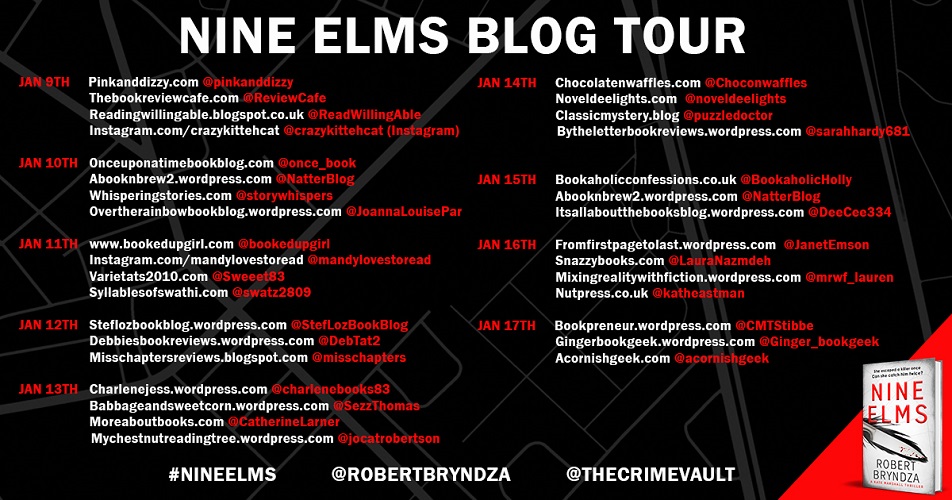 ---
What did you think of Nine Elms? Share your thoughts in the comment section below!
---
The above links are affiliate links. I receive a very small percentage from each item you purchase via these link, which is at no extra cost to you. If you are thinking about purchasing the book, please think about using one of the links. All money received goes back into the blog and helps to keep it running. Thank you.