Number Eight Crispy Chicken by Sarah Neofield – Book Review
Number Eight Crispy Chicken by Sarah Neofield – Book Review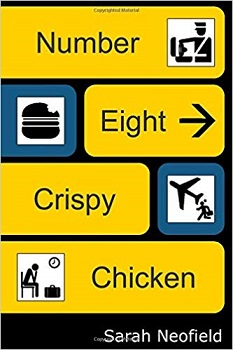 Number Eight Crispy Chicken
Author – Sarah Neofield
Pages – 232
Released – 10th November 2019
ISBN-13 – 978-1922362001
Format – ebook, paperback
Review by – Clive
Rating – 5 Stars
I received a free copy of this book.
This post contains affiliate links.


Minister for Asylum Deterrence and Foreign Investment, Peter Ruddick, is en route to the remote Pulcherrima Island, the site of his latest privately-run, fast food chain-inspired detention centre. But chaos ensues when Peter misses his connecting flight and finds himself confined to the visa-free zone of the Turgrael airport, without a business lounge in sight.
Stranded in a foreign territory with nothing but McKing's Crispy Chicken burgers to eat and nobody but a bleeding heart liberal, his seat-mate Jeremy Bernard for company, Peter's misunderstandings of Turgistani language and culture result in his arrest on suspicion of terrorism, perversion, and espionage. Peter has always had the power to get away with just about anything, but how will he sweet talk his way out of this one? What if he winds up – like those in his centres – indefinitely detained?
'Hilarious' and 'powerful', Number Eight Crispy Chicken is a carefully researched, funny, and thought-provoking read for fans of the social novels of Tressell, Orwell, Dickens, and Vonnegut.

As far as I can see this is Sarah Neofield's debut novel and what a way to start. Using her travel and blogging background she has produced Number Eight Crispy Chicken, an excellent political satire which covers migration and asylum which are two of the major concerns in today's world. The countries in the book are fictional but Peter's Furtivus could be either Noefield's native Australia, the USA or the UK.
Despite her inexperience as a novelist Neofield has been very brave. Although told in the third person we follow the story through Peter's mind. For most of the book he is the sole character, his only interaction being with assorted officials who he sees as nothing more than officious obstacles. The second character, Jeremy, features briefly but of course we only view him through Peter's eyes so are we viewing him objectively?
It was not difficult to recognise the character of Peter, most of us can remember politicians like him. Clearly he is an expert in diplomacy and political wheeler-dealing yet he is unworldly, showing a lack of many basic skills. These shortcomings cause him to realise just how difficult life is for those migrants that his department has responsibility for.
At times Peter's mishaps seem a little contrived and too slapstick but others are hilarious. Neofield also shows great writing skills, especially where she fills several engrossing pages describing a five minute delay in getting service. And if you feel that mid-way the story is going a bit slow then bear with it; once you reach the final third it will fly forward at such a pace the book will be finished before you know it, with quite a few surprises along the way.
So does Peter's nightmare change his views? Well, you can only find out by reading Number Eight Crispy Chicken for yourself. As I write this review the paperback is available and the ebook is due for release in two weeks' time. If you should need any more encouragement to buy it then look at the short video on Sarah Neofield's website.
I don't often fly but the next time I do Number Eight Crispy Chicken will be on my mind. For its thought provoking entertainment I have awarded a full five stars.
Book Reviewer – Clive
---
Purchase online from:
---
About the Author

Sarah Neofield grew up in regional South Australia before living in Japan for a year. Always fascinated by language, she completed a PhD in applied linguistics in 2010. She has written extensively on the topics of intercultural communication, how we communicate online, and language learning.
At the age of 30, Sarah resigned from her position as a university lecturer to travel, and since has visited over 60 countries. She blogs about the connection between language, money, and social justice at enrichmentality, and about reading, writing, and creativity on her website.





---
What did you think of Number Eight Crispy Chicken? Share your thoughts in the comment section below!
---
The above links are affiliate links. I receive a very small percentage from each item you purchase via these link, which is at no extra cost to you. If you are thinking about purchasing the book, please think about using one of the links. All money received goes back into the blog and helps to keep it running. Thank you.