The Writing Life of: WD Jackson-Smart
WD Jackson-Smart
This week I am thrilled to be interviewing author WD Jackson-Smart, who will be sharing with us details of his writing life, telling us all about his latest book 'From Inside the House', which was released on 16th June 2019 and answering a few fun questions too. This post contains affiliate links.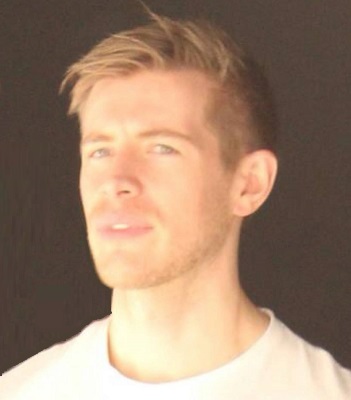 WD Jackson-Smart, 35, is a London-based horror and crime fiction author who has been writing crime and horror fiction since 2011. His novel Red Light was self published on Amazon and charted in the top twenty best selling Suspense / Thriller Kindle books on release.
His horror short story, What's Yours Is Mine, was shortlisted for the Horror For Good anthology.
His first crime thriller Slasher, about a serial killer targeting slasher movie actresses in Hollywood, is out now, and he has launched a brand new crime series set in London and starring D.I. Graves. The Demons Beneath is the first in the series, and the sequel From Inside The House recently released too. He is currently busy working on book 3 in the series!
As well as his passion for horror and crime thrillers in all forms, WD Jackson-Smart also loves art and design, having studied Fine Art and Art History in Leeds and Toronto and working in creative and advertising for the majority of his career.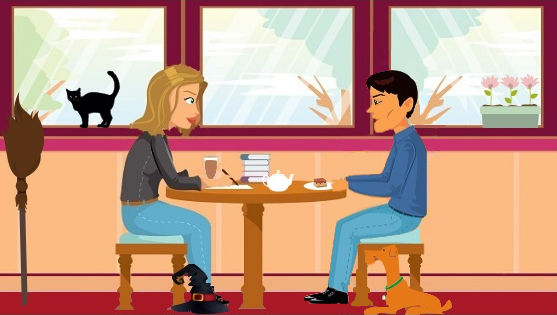 1) As a child did you have a dream job in mind?
I'm fairly sure I wanted to be an archaeologist and travel the world digging up dinosaurs. I was and still am a massive dino geek (Jurassic Park is life!). However I discovered you had to study all history, not just the dino parts, which put me off. I'm not much of a history buff overall.
2) Who was your favourite childhood author (s)?
Wow, I'm not sure actually. Certainly Dean Koontz and Christopher Pike were up there. I got introduced to horror quite young, possibly too young, so was reading Koontz and King and similar by the time I was around 11. Let's go with Koontz. Also massive shout out to Point Horror, as I devoured those!
3) Was there a particular point in your life that you realised you wanted to be a writer?
I was about 18 I think, and sat in a cinema. I thought that a scene I watched wasn't very written and I wondered if I could do better. I decided to try writing a book (jumping in at the deep end) and have continued writing ever since, although I still often don't refer to myself as a writer. I hear that happens a lot with people who right books – like some mystical being needs to announce that in fact you are a writer before you'll consider it to be true.
4) What is your average writing day like? Do you have any special routines, word count, etc?
On an average day I actually write on my lunch break (I work in marketing as well as writing) – I don't have a word count target or anything like that but I do have a process. I always read the last bit of what I wrote previously, partially to edit and partially to ensure what I write continues on properly.
5) How many books have you written? Any unpublished work?
So far I have written 5 books, and I'm on my sixth. My first is no longer available because it's a bit crap to be honest, although it taught me a lot! And I have one other unpublished book, well the start of it, which I'll come back to at some point!
6) Are you a plotter or a pantser?
I don't know what that means haha. I'll go with pantser, based on the fact that I like to try and pull the rug out from under my readers where I can.
Concerning your latest book: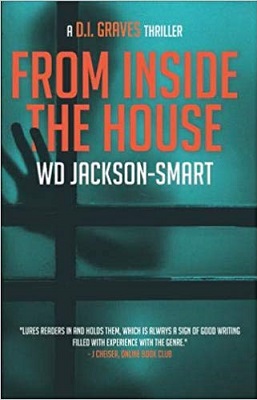 From Inside The House


DI Graves Series Book Two
Author – WD Jackson-Smart
Publisher – Panther Publishing
Pages – 362
Release Date – 16th June 2019
ISBN 13 – 978-1527243378
Format – ebook, paperback

Two victims. Brutally murdered in their own home. Body parts taken.
D.I. Graves is back on the case to face his toughest challenge yet. A case with no motive and no suspect, nothing at all that could explain why someone would kill innocent people in such a way.
Then the next victims are discovered. Another pair of bodies. New body parts taken. Again in their own home.
Someone is breaking into houses across the city at night, leaving horror in their wake. It seems to Graves that this could be two serial killers, working together. But how are they choosing their victims? Is any house in London a target? Is anyone safe?
To make matters worse, a journalist is threatening to cause more harm than good with her obsessive push in covering the story to further her career, and someone is targeting Graves personally, seeking revenge against him in relation to an old case.
Can Graves keep himself safe long enough to stop the serial killers before they strike again?
Purchase Links
7) How did you go about researching the content for your book?
I use Google like anyone I guess. My search history would probably look incriminating though! I google things like undetectable poisons, murder rates in London Boroughs, recent crimes involving rituals – you know, typical stuff. I also try to research a lot about how actual detectives and police officers work. I'm sure I've made mistakes there but as long as the way my characters act feels real, that's what's important to me. I also read a lot of crime, to see if there are things I can learn to do or not to do.
8) How long did it take to go from ideas stage to writing the last word?
That's a bit 'how long is a piece of string?' for me if I'm honest. History has shown I take about 18 months to 2 years between books which I'm trying to reduce! But I have ideas that have not yet had any entry on a page yet.
9) How did you come up with the title of your book?
I tend to come up with a few options that fit with the themes of the story and then often I ask my social followers, or my friends or husband. I also research titles I like on Amazon to make sure other authors haven't beaten me to it. It's hard though – trying to encapsulate a whole book in a few words is an art form I'm not sure I've cracked just yet.
10) Can you give us an insight into your characters?
In the D.I. Graves series, my lead Daniel is set up to be relatable, realistic and prone to doubt and concerns that are very human. I feel like I've read far too many books where the lead detective is a gruff alcoholic genius whose wife has left him and to me that has become so cliched. I've tried to make Daniel as real and human as I can while still allowing for him to be a good detective. I've also tried to make sure he has space for growth!
With other characters I always try to make sure they have actual characteristics. Secondary characters are often one note so I try to give mine a few different things to make them more real. For example Charlie, on paper, is the typical macho handsome detective who is popular with the opposite sex. He's also dogged by the fact that people assume he's arrogant or obnoxious to go along with his looks, and he makes mistakes in his work, sometimes major, such as letting his relationships threaten his career. He is kind-hearted and loyal and not the cliche others may think he is from judging him on the surface.
I do tend to get criticism about how my female characters are written too – sometimes unfairly in my opinion – but perhaps I've been guilty of them often being cold. This is not my intention, quite the opposite in fact, so at the moment I'm making sure that my female characters are as human and multi faceted as my male characters. Take Officer Amelia Harding. She's determined, pushes herself at work constantly and is on a mission to move up the ranks but she's also a great friend to Daniel and keen to help mentor junior staff to make the team she works in as strong as possible.
11) What process did you go through to get your book published?
I self published, then I published with a small vanity press (which didn't go well) and then I self published again. I tried to get an agent, pitched to a number of publishers, and was going to just continue self publishing when Panther took a chance on me, which has been fantastic so far!
12) What's next for you writing wise?
D.I. Graves 3 is my current WIP, but I'm also going to write a book for the Panther Night Terrors series, which I'm excited for. It'll have been a long time since I was writing about anyone other than Graves and co!
Fun Questions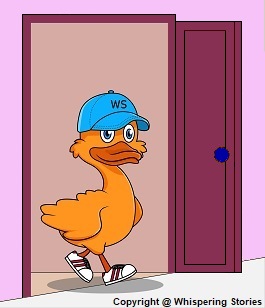 1) If you could have any super power for the day which would you choose?
I'd love to be able to fly or teleport – there are so many places I'd love to go and see. Also, I'm impatient so that would help too. No commute? Fantastic!
I do! I have two dogs, Oscar the french bulldog and Bentley the pug. I love them to bits – they're funny, feisty, annoying and amazing in equal measure.
3) If you decided to write an autobiography of your life, what would you call it?
I have no idea!!! No idea at all in fact! But I'm sure it would have the words horror and geek in there somewhere. 'Hunting for horror and dinosaurs: Confessions of a geek' perhaps haha.
4) Your book has been made into a feature film and you've been offered a cameo role, which part would you choose, or what would you be doing?
I would love to play a bitchy best friend that gets killed in horrific fashion! Although I'm male, I could gender swap a character from my book Slasher – Bianca. She'd be amazing to play! Or I'd be the Randy from Scream guy – the one who knows the rules of horror and imparts horror film-related wisdom and anecdotes. I may need to write that guy into a book!
5) Where is your favourite holiday destination?
Maybe Hawaii? I went there two years ago and completely fell in love with it. Having said that, I also love Thailand and Japan. Any of those, in a heartbeat!
6) A baseball cap wearing, talking duck casually wanders into your room, what is the first thing he says to you?
'So what are we watching?' (You can guarantee I'll be binge watching Netflix, Prime or Shudder)
---
I would like to say a big thank you to WD Jackson-Smart for sharing with us details of his writing life and for a wonderful interview.
WD Jackson-Smart Author links





---
Share your thoughts on our interview with WD Jackson-Smart in the comment section below!
---
The above links are affiliate links. I receive a very small percentage from each item you purchase via these link, which is at no extra cost to you. If you are thinking about purchasing the book, please think about using one of the links. All money received goes back into the blog and helps to keep it running. Thank you.
Like us on Facebook – Tweet us on Twitter – Pin us on Pinterest