What Happens in France by Carol Wyer – Book Review
What Happens in France by Carol Wyer – Book Review
What Happens in France
Author – Carol Wyer
Publisher – Canelo Escape
Released – 28th January 2019
Format – ebook
Reviewer – Stacey
Rating – 4 Stars
I received a free copy of this book.
This post contains affiliate links.
"She stood and took her place in front of the camera… It was now or never"
Bryony Masters has been looking for her long-lost sister, Hannah, for years, but when their father has a stroke her search takes on new urgency. So when primetime game show, What Happens in France, puts a call-out for new contestants, Bryony spots the ultimate public platform to find her reality TV-obsessed sister, and finally reunite their family.
With the help of handsome teammate Lewis, it's not long before she's on a private jet heading for the stunning beauty of rural France. With a social media star dog, a high maintenance quiz host and a cast of truly unique characters, Bryony and Lewis have their work cut out for them to stay on the show and in the public eye.
Yet as the audience grows and the grand prize beckons they find that the search that brought them together may just fulfil more than one heart's wish…
Bryony Masters father has had a massive stroke whilst looking through some old photos. Her mum believes that he won't make it through another and that this one was brought on whilst he was looking at pictures of Hannah, his daughter (Bryony's sister) who ran away thirty years ago aged just sixteen.
Bryony has an idea to help track Hannah and get her to her father before he dies. Hannah used to love game shows and watched them all the time, so Bryony is going to go on one and make an appeal to her sister to come home. With popular game show 'What Happens in' looking for contestants she decides to apply.
The plot might not sound like it would be highly amusing, but by God it is.
Bryony is a wonderful character. Very intelligent, charismatic and humorous too. She loves her family and has always felt responsible for Hannah leaving and is determined to find her, even setting up a blog and Facebook page to try to locate her too.
We also meet Lewis, Bryony's new friend and accomplice in the game show that is this week set in France and called 'What Happens in France'. The show takes place over a week and is filled with different types of games, some quizzes and some physical.
I must also take a moment to make a shout-out to Jim and Oscars pet dog, Pug Biggie Small who is a superstar with his own Instagram account.
The book kept me engaged the whole way through, the characters were perfectly realistic and the game show certainly something I would watch. I love how it was written in date form and also included the blog posts that Bryony put up speaking directly to her sister, hoping that she would see them.
If you like comedies then this is definitely the book for you. It has lots of laugh-out-loud moments and will make you smile the whole way through.
Reviewed by Stacey
---
Purchase online from:
---
About the Author

As a child Carol Wyer was always moving, and relied on humour to fit in at new schools. A funny short story won her popularity, planting the seed of becoming a writer. Her career spans dry cleaning, running a language teaching company, and boxercise coaching.
Now writing full-time, Carol has several books published and journalism in many magazines. Carol won The People's Book Prize Award for non-fiction (2015), and can sometimes be found performing her stand-up comedy routine Laugh While You Still Have Teeth.




---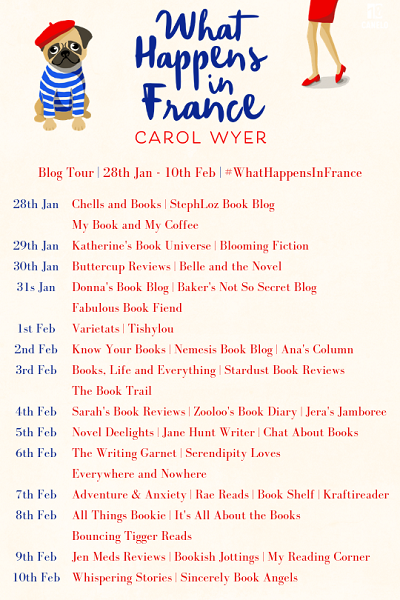 The above links are affiliate links. I receive a very small percentage from each item you purchase via these link, which is at no extra cost to you. If you are thinking about purchasing the book, please think about using one of the links. All money received goes back into the blog and helps to keep it running. Thank you.
Blog posts straight to email via Bloglovin – Like us on Facebook – Follow us on Twitter