Everyday Magic by Charlie Laidlaw – Book Review
Everyday Magic by Charlie Laidlaw – Book Review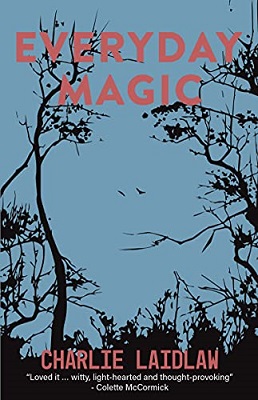 Everyday Magic
Author – Charlie Laidlaw
Publisher – Ringwood Publishing
Released – 31st May 2021
Format – ebook
Rating – 4 Stars
I received a free copy of this book.
This post contains affiliate links.


Synopsis
Carole Gunn leads an unfulfilled life and knows it. She's married to someone who may, or may not, be in New York on business and, to make things worse, the family's deaf cat has just been run over by an electric car.
But in spite of her mundane life, Carole has decided to do something different. She's decided to revisit places that hold special significance for her. She wants to better understand herself, and whether the person she is now is simply an older version of the person she once was.
Instead, she's taken on an unlikely journey to confront her past, present and future.
In Everyday Magic we meet Carole Gunn who is married to Ray and they have a Daughter called Iona.
Carole is in a bit of a rut in her life, her daughter does nothing to help around the house, which Carole passes off due to Iona's illness when she was a child.
Husband Ray is away working all the time, though Carole doubts weather he really is where he says he is.
Carole's cat, Granny, has also just died after being run over and she feels no one would really notice if she wasn't around either.
An unexpected force, or maybe her so called Sat Nav, leads Carole to visit her past. She goes to visit the pub where she first met Ray, she also goes back to her old flat in Edinburgh where she lived as an undergraduate, and takes a trip to her childhood home. Carole also bumps into someone she used to work with and they offer her an unexpected opportunity.
Everyday Magic felt a bit like a time travel novel as objects kept on turning up in unexpected places despite Carole knowing she isn't going mad she still can't explain why these things are happening.
Although a bit of a slow start for me, I really liked Carole as a person. She is smart and so likeable. I enjoyed following her journey throughout, especially reading about the many flashbacks that occurred. These flashbacks took us back to Carole's early days of meeting her husband and her archaeology days.
This was a really entertaining read that had me quickly turning the pages wanting more.
Purchase Online From:
---
What did you think of 'Everyday Magic'? Share your thoughts in the comment section below!
---
The above links are affiliate links. I receive a very small percentage from each item you purchase via these link, which is at no extra cost to you. If you are thinking about purchasing the book, please think about using one of the links. All money received goes back into the blog and helps to keep it running. Thank you.
Like us on Facebook – Tweet us on Twitter – Pin us on Pinterest – Join us on Instagram