Nine Perfect Strangers by Liane Moriarty – Book Review
Nine Perfect Strangers by Liane Moriarty – Book Review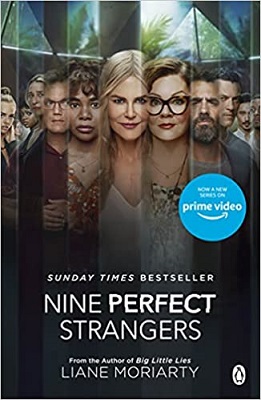 Nine Perfect Strangers
Author – Liane Moriarty
Publisher – Penguin
Release Date – 4th October 2018
Pages – 451
ISBN 13 – 978-1405951517
Format – ebook, Paperback, Hardcover, Audio
Star Rating – 3
I received a free copy of this book.
This post contains affiliate links.

Synopsis
Nine perfect strangers, each hiding an imperfect life.
A luxury retreat cut off from the outside world.
Ten days that promise to change your life.
But some promises – like some lives – are perfect lies . . .
'Nine Perfect Strangers' by Australian-based best-selling author Liane Moriarty, is classified as a medical thriller. We are introduced to the staff and clients of Tranquillum House, a boutique health and wellness resort. We see the action in the past tense from the perspectives of almost everyone involved in the story. Through dedicated chapters, they share thoughts on their lives and reasons for being at the resort. Some of these are predictable and some are more imaginative.
I was worried that there would be too many people to keep track of but the author helpfully paced the entrances of her cast. Yet by the end I was wondering if the story was enhanced or hindered by the inclusion of so many characters? Maybe with fewer, the reader would have had a chance to care about them more?
I like the play on words for the title of the book. These people are all damaged in some way and searching for answers to improve the quality of their troubled lives.
For the first half of the story we watch as the clients settle into their ten day stay. We join them on their wellness journey towards personal cleansing and witness the dynamics as they cope with their holistic adventure. Each has had to surrender their electronic devices along with unhealthy snacks and submit to the regime in mind and body. It was entirely predictable that some would attempt to cheat and get caught out. To be honest, that's about all that happens and I was desperately hoping for something to move the story along because whilst the writing was slick and in places amusing, it was in dire need of a plot.
What then actually happened was definitely a surprise. It almost seemed like two short stories melded together because suddenly we were thrust into a psychological thriller. The actions of one of the cast wouldn't have been so shocking if there had been some foreshadowing to give the reader a hint of what might be in store; this would have certainly increased the anticipation and excitement of an impending threat.
There are questions at the end for the reader to reflect on and I found these interesting. It would have been nice if the story itself had made me think of them so the depths the author was aiming for didn't altogether work for me.
I know this has been made into an Amazon Prime series and it might well be that accomplished actors can bring additional depth to the characters in this rather muddled story. Also I have no doubt other readers will find the layers which have eluded me. I award three stars.
---
Purchase Online:
Liane Moriarty

Liane Moriarty is the Australian author of eight internationally best-selling novels: Three Wishes, The Last Anniversary, What Alice Forgot, The Hypnotist's Love Story, Nine Perfect Strangers and the number one New York Times bestsellers: The Husband's Secret, Big Little Lies and Truly Madly Guilty. Her books have been translated into over forty languages and sold more than 20 million copies.
Big Little Lies and Truly Madly Guilty both debuted at number one on the New York Times bestseller list – the first time this was ever achieved by an Australian author. Big Little Lies was adapted into a multiple award-winning HBO series with a star-studded cast including Nicole Kidman and Reese Witherspoon.
Her new novel, Apples Never Fall, was released in September 2021.
Liane lives in Sydney, Australia, together with her husband, son and daughter.
Author Links:
---
Share your thoughts on Nine Perfect Strangers in the comment section below!
---
The above links are affiliate links. I receive a very small percentage from each item you purchase via these links, which is at no extra cost to you. If you are thinking about purchasing the book, please think about using one of the links. All money received goes back into the blog and helps to keep it running. Thank you.
Like us on Facebook – Tweet us on Twitter – Join us on Instagram