You're So Clumsy Charley by Jane Binnion – Book Review
You're So Clumsy Charley by Jane Binnion – Book Review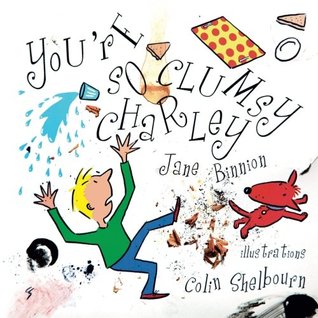 You're So Clumsy Charley
Author – Jane Binnion
Publisher – Your Stories Matter
Pages – 48
Release Date – 30th January 2017
ISBN-13 – 978-1909320666
Format – paperback
Reviewer – Stacey
I received a free copy of this book
Post Contains Affiliate Links

Charley always seemed to get into trouble, though he didn't mean to.
He was getting fed up of going to school because he felt different from most of the other kids.
Then he met his Aunty Bella. And everything changed.

Charley was ever so clumsy, and always getting into trouble at school. He was sad because he was always messing up, and getting told off. His parents were worried about him, so his dad came up with an idea. He would take Charley on a little holiday to Charley's Aunty Bella's, home for a few days.
Bella was just like Charley. A little clumsy and had scruffy handwriting, just like Charley too. Over the course of the few days, Bella taught Charley that there was nothing to be ashamed of for being clumsy, and that lots of people were like Charley.
This gave Charley his confidence back, and he became happy once again.
You're so Clumsy Charley, is all about a little boy who has dyspraxia. He doesn't understand why he is clumsy all the time, and this makes him feel sad, as he tries so hard not to be.
At the start of the book, the images are all black and white, but once Charley meets his Aunty Bella, they then become colourful.
The book is very informative, and written in a child-friendly manner. It is engaging and interesting too. I think children and adults alike will enjoy this book.
It would be the perfect book for children who have dyspraxia, to help them understand the condition better, and to let them see that they are not alone.
Book reviewed by Stacey
Purchase Links


About Your Stories Matter
Based in Kendal, Cumbria Paul Johnson is the founder of Your Stories Matter and the parent publishing company Explainer HQ — which provides creative video, audio, animation and print to the business and education sector.
All Your Stories Matters titles are published in paperback and are available to order from online retailers.
Author Links