Emily's Sister by Michele Gianetti – Book Review
Emily's Sister by Michele Gianetti – Book Review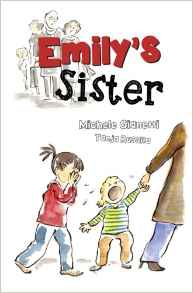 Emily's Sister
Author – Michele Gianetti
Publisher – Your Stories Matter
Pages – 66
Release Date – 30th January 2017
ISBN-13 – 978-1909320635
Format – paperback
Reviewer – Stacey
I received a free copy of this book
Post Contains Affiliate Links

Emily's sister is different from other children she knows. She seems to struggle with things most of us just do naturally.
In this delightfully illustrated story, based upon real family experiences, Emily discovers how to understand and help her sister live a happier life.
This story, written by the parent of a child with Dyspraxia and Sensory Processing Disorder (SPD), paves the way for parents, teachers and medical professionals to discuss these specific learning difficulties with children (aged around 7-9).
Unlike most other books on the subject, this book has been written from a child's perspective: enabling young people to ask questions of the story in a non-threatening way and encouraging them to discover how it relates to them.
This book can be shared with children having special needs, their family, or their classmates.

Emily has a little sister Elizabeth. Elizabeth isn't like most other little children though. She cries all the time, and gets upset very easily.
Ever now and then, Emily's mum leaves Elizabeth with a babysitter, so that the two of them can enjoy some alone time, and do things that may upset Elizabeth.
Whilst on one of these days out together, Emily want's to know why Elizabeth cries a lot. Her mum sits her down and explains that Elizabeth has dyspraxia, and sensory processing disorder, and how they affect her.
Over time, Emily learns to understand her little sister better, and ways to help her sister cope in the big, noisy, fast world.
Emily's Sister is a children's book, but I would say for older children, as I'm not sure younger ones would fully understand the story.
It is beautiful, fluidly written, and engages with the reader. It explains via a delicate story setting, based on the authors real family life, what dyspraxia and sensory processing disorders are, and how they affect people.
Being the mum of a child who is autistic, and has a diagnosis of dyspraxia (although his symptoms have eased as he has gotten older), I can fully understand how Emily's mum felt, and having to have that conversation with your other children.
This book is fully informative and is a great asset to help educate people about these conditions, whether that be via a class read, or privately at home. It creates a talking point, and gives parents tips on how to approach the subject, and what to say to their other children, about these conditions. I also feel that it would work just as well for a parent, relative of an autistic child too.
Book reviewed by Stacey
Purchase Links

About Your Stories Matter
Based in Kendal, Cumbria Paul Johnson is the founder of Your Stories Matter and the parent publishing company Explainer HQ — which provides creative video, audio, animation and print to the business and education sector.
All Your Stories Matters titles are published in paperback and are available to order from online retailers.
Author Links