Vera McLuckie and the Daydream Club by Jane Evans – Book Review
Vera McLuckie and the Daydream Club by Jane Evans – Book Review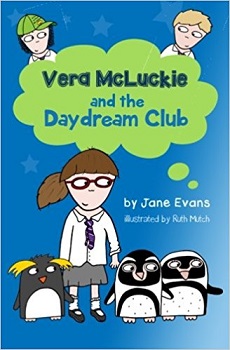 Vera McLuckie and the Daydream Club
Author – Jane Evans
Publisher – Your Stories Matter
Pages – 186
Release Date – 30th January 2017
ISBN-13 – 978-1909320642
Format – paperback
Reviewer – Stacey
I received a free copy of this book
Post Contains Affiliate Links

Vera McLuckie hates school. Mainly because she struggles with stuff the other kids find easy. Oh, and because she keeps getting into trouble for doing what she is really good at. Daydreaming.
So when Vera gets the chance to show just how extraordinary she is, will she dare take on the coolest, smartest girl in the whole of Acorn Bank Primary?

Vera hates school, well she hates it on certain days, but Monday's are the worse. One of the reasons that she hates school is that she finds it hard to concentrate, and often daydreams, which annoys her teachers.
Together with her friends Harry, who finds reading and writing difficult, and Max who doesn't always understand what people are telling him, nor likes to be touched, the three find school a struggle as each of them have different learning difficulties, but whilst they might find certain things at school difficult, in other areas they thrive.
What a lovely children's book. All three main characters are beautifully written and a joy to read about. Vera herself gives you a personal insight into her life throughout.
I've said it a few times in past reviews, but I really do love books for children that not only contain fascinating stories, but those that will keep the readers hooked to the pages, whilst subtly arming them with lots of knowledge.
In today's society, whilst we have moved forward considerably in helping people understand about learning difficulties, there is still a long way to go. This book will certainly help to educate children about diversity, and that everyone has their weaknesses, and their strengths.
All schools should own a copy of this book, as it is a superb read. It is also written so that it is easy to understand and follow, and illustrated beautifully by Ruth Mutch, who also has learning difficulties.
Children will also love the mission at the back of the book, to help find the 15 missing penguins that are hidden throughout the story. What a fantastic idea.
Book reviewed by Stacey
Purchase Links

About Your Stories Matter
Based in Kendal, Cumbria Paul Johnson is the founder of Your Stories Matter and the parent publishing company Explainer HQ — which provides creative video, audio, animation and print to the business and education sector.
All Your Stories Matters titles are published in paperback and are available to order from online retailers.
Author Links