Hope Jones Saves the World by Josh Lacey – Book Review
Hope Jones Saves the World by Josh Lacey – Book Review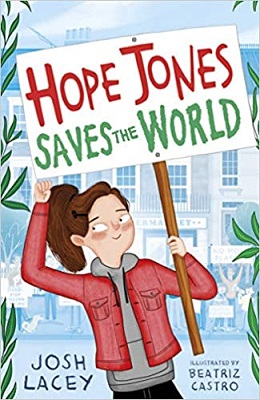 Hope Jones Saves the World
Book One
Author – Josh Lacey
Illustrator – Beatriz Castro
Publisher – Anderson Press
Pages – 176
Released – 7th May 2020
ISBN-13 – 978-1783449279
Format – ebook, paperback, audio
Rating – 4 Stars
I received a free copy of this book.
This post contains affiliate links.


Synopsis
My name is Hope Jones. I am ten years old. I am going to save the world.
Hope Jones' New Year's resolution is to give up plastic, and she's inspiring others to do the same with her website hopejonessavestheworld.com. When she realises her local supermarket seems to stock more unnecessary plastic than food, she makes it her mission to do something about it. She may be just one ten-year-old with a homemade banner, but with enough determination, maybe Hope Jones really can save the world.
Ten-year-old Hope Jones decided for her New Year's Resolution that she was going to save the planet by giving up plastic. She thought it would be a lot easier than it was.
Told in blog entry posts and dated throughout January you witness Hope's determination to stop using plastic and her education about how many items are made from plastic. From milk bottles, teabags, straws, to fixtures in the bathroom and things such as disposable razors.
The book is right on trend at the moment, especially as it seems to be children who are leading the way on wanting to change the world, even if they can only do a small amount individually.
The book will open your eyes to not only the destruction of the planet that plastic causes or the wildlife it kills or injures but just how much plastic there is. Did you know that the twenty-first century has already exceeded the amount of plastic made than what was produced throughout the whole of the twentieth century?
I think we are learning to change our habits in recycling, using paper/metal/etc straws, bamboo toothbrushes, plastic cotton buds being banned, and reusable bags. But when you think about how much plastic you buy when you go to the supermarket it is shocking.
The book isn't all 'stop buying plastic', it is realistic too. It shows you that not everything is easy to change, that sometimes the plastic is hidden or that going plastic-free can be expensive. But making small changes now can help.
There is some amazing artwork throughout and I love Hope's dedication to her cause. I can see this being a big hit with middle-graders and hopefully they will get some hints on how to go plastic-free that they can share with their parents/guardians. On a side note, the website in the synopsis works, though it isn't a blog, there are things to download.
---
What did you think of 'Hope Jones Saves the World'? Share your thoughts in the comment section below!
---
The above links are affiliate links. I receive a very small percentage from each item you purchase via these link, which is at no extra cost to you. If you are thinking about purchasing the book, please think about using one of the links. All money received goes back into the blog and helps to keep it running. Thank you.
Like us on Facebook – Tweet us on Twitter – Pin us on Pinterest