Weeds in Nana's Garden by Kathryn Harrison – Book Review
Weeds in Nana's Garden by Kathryn Harrison – Book Review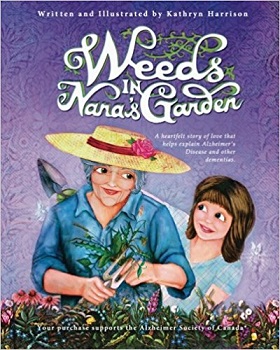 Weeds in Nana's Garden
Author – Kathryn Harrison
Publisher – Flipturn Publishing
Pages – 32
Release Date – 28th January 2016
ISBN-13 – 978-0994946706
Format – ebook, paperback
Reviewer – Stacey
I received a free copy of this book
Post Contains Affiliate Links

A young girl and her Nana hold a special bond that blooms in the surroundings of Nana's magical garden. Then one day, the girl finds many weeds in the garden. She soon discovers that her beloved Nana has Alzheimer's Disease; an illness that affects an adult brain with tangles that get in the way of thoughts, kind of like how weeds get in the way of flowers.
As time passes, the weeds grow thicker and her Nana declines, but the girl accepts the difficult changes with love, learning to take-over as the garden's caregiver.
Extending from the experience of caring for her mother, artist Kathryn Harrison has created this poignant children's story with rich illustrations to candidly explore dementia diseases, while demonstrating the power of love. It is a journey that will cultivate understanding and touch your heart.
After the story, a useful Question and Answer section is included. $1 from the purchase of this book will be donated to the Alzheimer Society of Canada. The Alzheimer Society is Canada's leading health charity for people living with Alzheimer's disease and other dementias.

Weeds in Nana's Garden tells the story of a young girl and the bond that she and her nana share. Throughout the years she has helped her nana in the garden, planting and looking after the flowers. One day when she visits her nana there are weeds in the garden, climbing all over the flowers. She doesn't understand why her nana has stopped caring about her garden.
Her mum explains that nana's brain is sick, and that she has something called Alzheimer's, a form of dementia that unfortunately causes unwanted tangles in her brain and everything gets muddled up.
Over time the little girls nana becomes sicker and sicker, until she can no longer live at home anymore, but the little girl still goes to her house to look after the garden.
Ms. Harrison is to be commended for writing, and illustrating, a thoughtful, poignant book aimed at children on a subject most people find hard to discuss and explain.
The story is written in a light-hearted manner, yet shows just how an elderly person can deteriorate once dementia has taken hold. It is told in a very kid friendly way, especially with the added talk of fairies on each page, and children will have no problems understanding it.
The illustrations are divine, and are so beautifully drawn. There is pure emotion told in the illustrations that you don't need words to express how the characters are feeling.
Having had a grandparent live with Alzheimer's for five years up until it took hold, this book would have come in handy to explain what was happening to my children (the great grandchildren).
At the back of the book there is also a questions section that will further help children to understand the illness.
Weeds in Nana's Garden would make a wonderful book to share if a family member or friend is living with dementia, or for a class read, to make children aware of what the condition is, and how it affects people.
Book Reviewed by Stacey
Purchase Links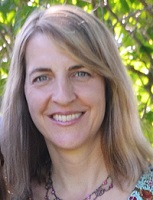 Canadian Author/Illustrator Kathryn Harrison holds a compelling blend of science, marketing and art skills. She has a Bachelor of Science degree, an MBA in Marketing, and worked for over a decade as a Communications professional before earning a Fine Art Diploma from the Toronto School of Art and continuing as an artist. In creating this picture book, Kathryn has been able to layer all her different abilities together.
Stirred by her personal experience with her mother's dementia, Kathryn created this book to support families and spread awareness of Alzheimer's Disease and other dementias. And to take it further, she founded Flipturn Publishing to publish the book, enabling her to make donations to the Alzheimer Society of Canada for every book sold. A former competitive swimmer, Kathryn used the name Flipturn Publishing to acknowledge the need to turn and face a new direction once dementia arrives in the family.
Author Links