The Silent Stars Go By by Sally Nicholls – Book Review
The Silent Stars Go By by Sally Nicholls – Book Review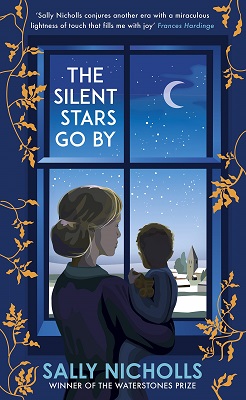 The Silent Stars Go By
Author – Sally Nicholls
Publisher – Andersen Press
Pages – 240
Released – 5th November 2020
ISBN-13 – 978-1783449903
Format – ebook, hardcover, audio
Rating – 4 Stars
I received a free copy of this book.
This post contains affiliate links.


Synopsis
Seventeen-year-old Margot Allan was a respectable vicar's daughter and madly in love with her fiancé Harry. But when Harry was reported Missing in Action from the Western Front, and Margot realised she was expecting his child, there was only one solution she and her family could think of in order to keep that respectability. She gave up James, her baby son, to be adopted by her parents and brought up as her younger brother.
Now two years later the whole family is gathering at the vicarage for Christmas. It's heartbreaking for Margot being so close to James but unable to tell him who he really is. But on top of that, Harry is also back in the village. Released from captivity in Germany and recuperated from illness, he's come home and wants answers. Why has Margot seemingly broken off their engagement and not replied to his letters? Margot knows she owes him an explanation. But can she really tell him the truth about James?
YA Historical Fiction The Silent Stars Go By is an elegant story of a young woman who has been through so much in her life. Set just after the First World War, Margot Allan fell pregnant by her fiancé Harry who was drafted to fight in the war. When Harry is declared 'Missing in Action', Margot presumes he has died and with no husband to help her raise a child the decision was made to pass the child off as her mother's.
Harry is found but injured and when Margot returns to the family home for Christmas the two are within one another's presence, up to now Margot has been avoiding him. How can she tell him what happened and what she did to their child?
The story is very sweet even if not a lot happens. It was like an episode of The Waltons, where the story is all about the family just being family. Talking to one another, getting advice from elders, enjoying Christmas as well as Margot's inner turmoil as to what to do for the best of her child, the man she still loves, and herself. Plus, the impact of the war on them all, especially those that fought on the frontline.
The book shows the harsh reality of what life was like in the olden days. It shows how much we have moved on with the times and come to accept that an unmarried woman can have a child, whether with someone else or bringing the child up alone. In the era the book is set in, this was highly frowned upon and brought great shame on not only the mother but the extended family too.
The book is beautiful, sophisticated, and was a fabulous read. The characters were certainly realistic as was the era and setting. It was like stepping back in time. If you love historical fiction, this is certainly one to pick up.
---
What did you think of 'The Silent Stars Go By'? Share your thoughts in the comment section below!
---
The above links are affiliate links. I receive a very small percentage from each item you purchase via these link, which is at no extra cost to you. If you are thinking about purchasing the book, please think about using one of the links. All money received goes back into the blog and helps to keep it running. Thank you.
Like us on Facebook – Tweet us on Twitter – Pin us on Pinterest