At First Sight by Hannah Sunderland – Book Review
At First Sight by Hannah Sunderland – Book Review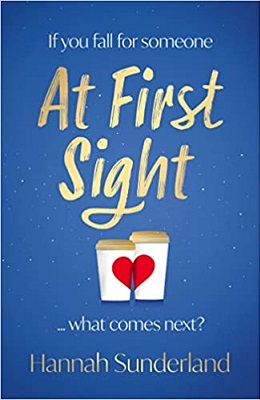 At First Sight
Author – Hannah Sunderland
Publisher – Avon
Pages – 384
Released – 1st April 2021
ISBN-13 – 978-0008365721
Format – ebook, paperback
Rating – 4 Stars
I received a free copy of this book.
This post contains affiliate links.


Synopsis
Two strangers. Two chance meetings. One extraordinary love story…
Nell and Charlie feel a spark when they meet by chance in a cafe. But they don't trade numbers, or surnames, so there's no way they'll meet again.
But the next day, Nell's phone rings at work. Somehow, impossibly, Charlie is on the other end. And he needs her help.
Nell is about to save a life, fall in love … and risk everything for a perfect stranger.
At First Sight, was not the story I was expecting from the title and the synopsis. I was expecting an upbeat romance/rom-com where this is a story with lots of heartbreaking moments and grief plays a big part. It gets deep at times and if suicide and the death of a loved one is a trigger point for you then maybe give this book a miss.
Nell works for a company similar to the Samaritans. She talks to people on the phone when they are at the lowest point in their lives and possibly thinking about harming or killing themselves. She is a very compassionate woman who has a lot of time to listen to people, even if she does often have verbal diarrhoea and doesn't know when to stop talking. She loves her job as it seems to be the one bit of her life that is going right.
Nell initially meets Irishman Charlie in a cafe on her lunch break when she sits next to him as no other tables were available. No matter how much she tries she can't help herself from talking to him and the two have an instant connection but they go their separate ways, that is until Nell takes a call one night and Charlie is the caller. She goes against the work policy and goes to meet Charlie.
Charlie is a sweet man who is lost in this world. Two years ago his life completely changed and for him, it felt like it had ended too. Since then he has been spiralling mentally out of control and doesn't know how to move forward, hence the phone call to the helpline.
The two have a connection but there are also some things in the past that they need to deal with before they can even think about being in a relationship together. Nell also feels guilty for feeling the way she does about Charlie and at times it felt like her mental health was suffering too.
The book is beautifully written and kicks you in the guts at times, so have some tissues ready. There were parts I didn't think added anything to the plot, such as Nell's ex-boyfriend, and parts I think played a big part even though they weren't the main focus of the book, such as her housemate and colleague Ned.
I thoroughly enjoyed the book even if it went in a direction I wasn't expecting.
---
What did you think of 'At First Sight'? Share your thoughts in the comment section below!
---
The above links are affiliate links. I receive a very small percentage from each item you purchase via these link, which is at no extra cost to you. If you are thinking about purchasing the book, please think about using one of the links. All money received goes back into the blog and helps to keep it running. Thank you.
Like us on Facebook – Tweet us on Twitter – Pin us on Pinterest