Flying By The Seat Of My Knickers by Eliza Watson – Book Review
Flying By The Seat Of My Knickers by Eliza Watson – Book Review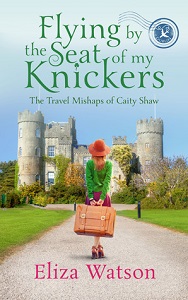 Flying By The Seat Of My Knickers
The Travel Mishaps of Caity Shaw Book One
Author – Eliza Watson
Pages – 204
Release Date – 11th March 2016
Format – ebook, paperback
Reviewer – Nia
I received a free copy of this book
Post Contains Affiliate Links

Why run from your troubles when you can fly instead? When Caity Shaw is fired from her first job that doesn't require an elf uniform, her older sister, Rachel, an event planner, hires her to work a meeting in Dublin. Caity jumps at the opportunity to travel abroad and escape her pathetic life.
However, even four thousand miles from home, there's no avoiding debt collectors, an overbearing mother, and haunting memories of a controlling ex. While in Dublin, Caity suffers a series of humiliating mishaps, causing her to lose even more faith in herself.
Caity struggles to earn Rachel's respect—and to keep Declan, her hot Irish coworker, at arm's length. Declan repeatedly saves Caity's butt and helps boost her self-confidence, making it difficult to keep her distance from the charming womanizer. When Declan helps her research her Irish grandmother, Caity discovers the mysterious past of the courageous woman she barely knew might hold the answers to her future.

Flying By The Seat Of My Knickers had me giggling like a loon from the very beginning. This is the story of a young woman who has been thrust into a world and job she is completely unprepared for and the mishaps she finds herself in while she finds her feet.
Caity has escaped from a toxic relationship with an emotionally abusive narcissist and she's afraid that he'll find her, half a world away. This little thread of darkness adds a hint of realism to an otherwise quirky and light-hearted novel, which I found to be a nice touch.
The only issue was that the tone used when describing this relationship was a little ambiguous, though it wasn't intended to be. The point was that Caity had indeed been emotionally abused by this git and that her self esteem was at an all time low, that emotional abuse is a serious issue, (which I totally agree with), but I don't think that the author quite put enough emphasis on the damage that his hurtful behaviour had on her to make the message hit home all the way.
Now that she's had to rely on the charity of her sister to get a job as an event planning assistant and escape from her life back home, Caity feels like she can't do anything right and she finds herself blowing all her little rookie mistakes out of proportion, backed up by her sister's disapproval and panic every time something goes wrong.
Declan, her lovely new colleague and friend, is quick to point out that everyone makes mistakes, and that she isn't expected to be perfect at her job right from the beginning and without training so he takes her under his wing. This supportive, considerate version that she's come to know doesn't fit in with his deserved reputation as a love'em and leave'em kind of man and she finds herself having to work to keep her feelings in check.
While she's helping her sister with her tour in Ireland, she discovers that her mysterious grandmother was actually born in a nearby town. It turns out that her lost family may not be so lost after all and with Declan's help, she begins researching her roots and building a connection with a her late grandmother who managed to move to a new country on her own and find happiness all those years ago.
So far, this book doesn't sound like the barrel of laughs that I said it was, but trust me…. it was. While Caity is busy empowering herself and discovering her roots (you go girl!), she's also dressed as a promotional sausage, eating $200 gift baskets by mistake, pepper spraying people by mistake and flashing her leprechaun socks at rich CEOs.
Eliza Watson's writing style is very easy to read and very enjoyable, she brings the character of Caity to life as an American exploring Ireland for the first time: picking up on things that Brits might not automatically see as unusual, which was refreshing and interesting. She managed to take what was actually a pretty heavy back-story and make it fun to read, I can't wait to read the next book in the series!
Flying By The Seat Of My Knickers was a great laugh with a nice strong message of a beaten down woman taking control of her life, I would recommend this book to any fans of feel-good chick lit, especially those looking to avoid romance.
Book Reviewed by Nia
Purchase Links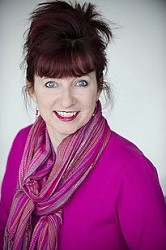 My first attempt at creative writing was in fourth grade. My friends and I were huge Charlie's Angels fans and I would sit in my bedroom at night writing scripts for us to act out at recess the following day. I was Kelly Garrett.
Fast forward to the present, I'm still writing stories about beautiful women who always get their men. The journey from fourth grade script writer to published author wasn't an easy one, but it was always an adventure and the final destination was well worth it.
When I'm not travelling for my job as an event planner, or tracing my ancestry roots through Ireland, I'm at home in Wisconsin working on my next novel, bouncing ideas off my husband Mark, and my cats Quigley, Frankie, and Sammy.
Author Links