Murder in Absentia by Assaph Mehr – Book Review
Murder in Absentia by Assaph Mehr – Book Review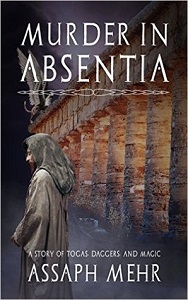 Murder in Absentia: Togas, Daggers, and Magic
Felix the Fox Book One
Author – Assaph Mehr
Publisher – Purple Toga Publications
Pages – 308
Release Date – 19th October 2015
ISBN 13 – 978-0994449313
Format – ebook, paperback
Reviewer – Clive
I received a free copy of this book
Post Contains Affiliate Links

A young man is found dead in his bed, with a look of extreme agony on his face and strange tattoos all over his body. His distraught senator father suspects foul play, and knows who to call on.
Enter Felix, a professional investigator. In the business of ferreting out dark information for his clients, Felix is neither a traditional detective nor a traditional magician – but something in between. Drawing on his experience of dealing with the shady elements of society and his aborted education in the magical arts, Felix dons his toga and sets out to discover the young man's killers.
Murder in absentia is set in a fantasy world. The city of Egretia borrows elements from a thousand years of ancient Roman culture, from the founding of Rome to the late empire, mixed with a judicious amount of magic. This is a story of a cynical, hardboiled detective dealing with anything from daily life to the old forces roaming the world.
This is a story of Togas, Daggers and Magic – it will appeal to lovers of urban fantasy, detective murder mysteries and ancient Rome.

Murder in Absentia is a very entertaining detective and adventure story told in a different setting. The lead character Felix is asked to investigate a suspicious death in Egretia, a city not unlike ancient Rome.
I loved the descriptions of life in and around the city, although I was disappointed when I learned that it was not strictly based on Roman life.
I declined the option to study Latin at school so I struggled a bit with some of the terms, making frequent reference to my dictionary and to a certain online encyclopaedia. That was partly my fault because if I had read the Foreword correctly I would have known that there was a Glossary at the back of the book!
My other surprise was to see that this is a book of 308 pages because I read it so easily and quickly that it felt like a much shorter book. Once you get used to the Latin terms this book would be appreciated by most mystery readers although Assaph Mehr probably wrote it with a male readership in mind. I particularly enjoyed the sea adventures, the games and the humorous encounters with the opposite sex.
Although I am not a great fan of stories about black magic this provides a good lesson that none of us should dabble in anything that we do not fully understand. The final action scenes were dramatic and the whole story is brought together very well in the last chapter.
Assaph Mehr has created a fascinating character in Felix and I hope he can follow it up with more stories in the future. If you are a Latin scholar you may think this is a five star book but for the interruptions to look up the Latin terms I have moderated my rating to four and a half stars.
Book Reviewed by Clive
Purchase Links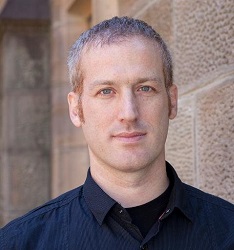 Assaph has been a Romanophile ever since he first got his hands on Asterix, way back in elementary school. This exacerbated when his parents took him on a trip to Rome and Italy – he whinged horribly when they dragged him to "yet another church with baby angels on the ceiling", yet was happy to skip all day around ancient ruins and museums for Etruscan art.
He has since been feeding his addiction for books with stories of mystery and fantasy of all kinds. A few years ago he randomly picked a copy of a Lindsay Davis' Marcus Didius Falco novel in a used book fair, and fell in love with Rome all over again, this time from the view-point of a cynical adult.
His main influences in writing are Steven Saylor, Lindsey Davis, Barry Hughart and Boris Akunin. Assaph now lives in Sydney, Australia with his wife Julia, four kids and two cats. By day he is a software product manager, bridging the gap between developers and users, and by night he's writing – he seems to do his best writing after midnight.
Author Links