The Big Dreams Beach Hotel by Lilly Bartlett – Book Review
The Big Dreams Beach Hotel by Lilly Bartlett – Book Review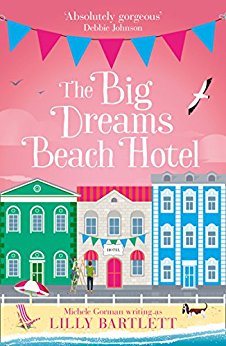 The Big Dreams Beach Hotel
Author – Michele Gorman writing as Lilly Bartlett
Publisher – HarperImpulse
Pages – 272
Release Date – 18th August 2017
ISBN 13 – 978-0008226626
Format – ebook, paperback
Reviewer – Stacey
I received a free copy of this book
Post Contains Affiliate Links

Three years after ditching her career in New York City, Rosie never thought she'd still be managing the quaint faded Victorian hotel in her seaside hometown.
What's worse, the hotel's new owners are turning it into a copy of their Florida properties. Flamingos and all. Cultures are clashing and the hotel's residents stand in the way of the developers' plans. The hotel is both their home and their family.
That's going to make Rory's job difficult when he arrives to enforce the changes. And Rosie isn't exactly on his side, even though it's the chance to finally restart her career. Rory might be charming, but he's still there to evict her friends.
How can she follow her dreams if it means ending everyone else's?
Review
The Big Dreams Beach Hotel, is the third book by Michele Gorman writing as Lilly Bartlett; set in New York and Scarborough (UK).
The story opens with Rosie, the main character, working in a hotel in New York and falling for one of her guests, Chuck. We then move forward a number of years and Rosie is back in her home town, living with her mum and dad, single and is now working at a Victorian seafront hotel, one that has seen better days.
The hotel has a mixture of guests and long term residents. The Colonel who owns the place is offered a large sum of money to sell it to an American hotel chain, an offer too good to turn down, much to the shock and disappointment of the staff and residents, especially Rosie.
With their lavish, outlandish ideas, Rosie is unimpressed with the changes the Americans are making, and will try anything she can to stop the place from being ruined and her friends and residents being turfed out of their homes. But there is one man standing in her way, Rory, the transition manager who has been sent to make sure everything runs smoothly.
How will the two work together? Are they really both at the opposite end of the scales when it comes to the hotel? What will the future hold for them both?
The plot is set in two timelines, which changes at various times throughout the book. New York and Rosie's relationship with Chuck, and Scarborough and her trying to save a quintessentially British hotel from being turned into something more fitting stateside.
There are a great mixture of very different characters, that works perfectly together, some that you will love getting to know, others not quite so much. Rosie is a lovely young woman, head strong, and pragmatic (most of the time). She is very caring, and this is one of the reasons she needs to fight for her hotel.
There is a lot of humour, sarcasm, and witty moments, alongside some very heart-warming scenes too. The Big Dreams Beach Hotel doesn't have any shocking twists and turns. It reads as a pure chick-lit, one that will absorb you and hold your attention until the very end. It would be the perfect book to lie in the sun with and drift into someone else's life – Rosie's.
Book reviewed by Stacey
You can read two excerpts from the book – Here
Purchase Links


Michele writes books with heart and humour, full of best friends, girl power and, of course, love and romance. Call them beach books or summer reads, chick lit or romcom… readers and reviewers call them "feel good", "relatable" and "thought-provoking".
She is both a Sunday Times and a USA Today bestselling author, raised in the US and living in London. She is very fond of naps, ice cream and Richard Curtis films but objects to spiders and the word "portion".
I spend way too much time on Twitter and Facebook when I should be writing, so please come say hello.