The Boy with Flowers in His Hair by Jarvis – Book Review
The Boy with Flowers in His Hair by Jarvis – Book Review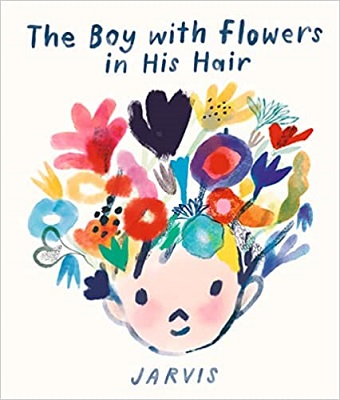 The Boy with Flowers in His Hair
Author – Jarvis
Publisher – Walker Books
Release Date – 3rd March 2022
Pages – 32
ISBN 13 – 978-1406392517
Format – Hardcover
Star Rating – 4
I received a free copy of this book.
This post contains affiliate links.

Synopsis
A warm and powerful story that brings to life a pure and poignant friendship that children will never forget.
David is the boy with flowers in his hair. He's sweet and gentle, just like his petals. But when David's flowers begin to fall – a single petal at first, then every last blossom – his best friend never leaves his side. And through kindness and creativity, he even finds a way to give David his colour back… Beautifully illustrated, this story is about being there for someone when they're at their most vulnerable.
David is a young boy who has flowers in his hair. The children at his school all love him, especially his best friend.
One day David comes to school with a hat on. All of his flowers have fallen off. He is sad and some of the children stay away from him, but not his best friend who has a wonderful idea on how to help him be bright and colourful again.
Author Jarvis really has a way with words and his imagination stops you in your tracks and makes you think.
The book may take more than one read to fully let the words sink in. The first time I read it I just thought what a strange story. Then I kept on replaying it in my head and eventually re-read it and realised it wasn't so much about the flowers but about the friendship the two best friends had and how caring, selfless, and thoughtful David's best friend truly is.
This is a beautiful story that has been illustrated perfectly to emphasise the plot and show the two young carefree happy boys in their full glory.
The Boy with Flowers in his hair is a remarkable book. It is heart-warming, poignant, and shows children what true friendship really is.
---
Purchase Online:
Jarvis
Jarvis studied Graphic Design and previously worked as a record sleeve designer, website designer and an animation director before becoming a children's bookmaker. His books with Walker include Follow Me, Flo!, Tropical Terry, Mrs Mole, I'm Home! and Alan's Big, Scary Teeth, which won the V&A Best Illustrated Book. He is all the illustrator of the much-loved 'Pick a …' series written by Patricia Toht, Pick a Pine Tree and Pick a Pumpkin
Author Links:
---
The above links are affiliate links. I receive a very small percentage from each item you purchase via these links, which is at no extra cost to you. If you are thinking about purchasing the book, please think about using one of the links. All money received goes back into the blog and helps to keep it running. Thank you.