The Story Thief by Graham Carter – Book Review
The Story Thief by Graham Carter – Book Review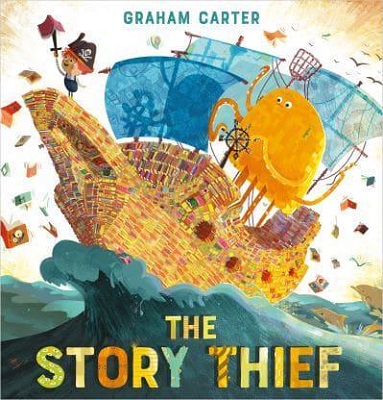 The Story Thief
Author – Graham Carter
Publisher – Andersen Press
Release Date – 4th March 2022
Pages – 40
ISBN 13 – 978-1783448920
Format – Hardcover
Star Rating – 5
I received a free copy of this book.
This post contains affiliate links.

Synopsis
Olive is a shy girl who prefers reading about adventures to having them herself. But when a mysterious figure steals all of the books in town, Olive decides to set out straight into an adventure of her own. The thief, meanwhile, doesn't quite know what to do with the stories he's stolen. Olive must track down the thief and teach him the joys of reading – and sharing – stories.
Olive was on her way back from the library when she dropped her book over the side of the boat she was travelling in.
Down at the bottom of the sea, an Octopus found the book and wondered what it was. He followed Olive and noticed how happy books made her. In fact, he notice how happy the books made all the town folk.
So Octopus decided he had to have all the books and that's how the story thief came to life. But what will Olive and the town folk do now without any books for them to read?
The Story Thief is a sweet book that shows children how magical books and reading are and how they help them to use their imaginations.
I loved how brave Olive was and how much she adored reading and used all the knowledge she had gained from reading to help her locate and retrieve the books that the Octopus had stolen.
The illustrations are amazing and bring the story to life. A fabulous story and one I can see children adoring the whole way through.
---
Purchase Online:
Graham Carter
Graham Carter's illustrations can be spotted in a wide variety of publications such as The New Scientist, The Guardian and The Sunday Times. Graham lives Seaford with his wife and son, and can often be found printing, sketching and making a mess in his studio in Brighton.
---
The above links are affiliate links. I receive a very small percentage from each item you purchase via these links, which is at no extra cost to you. If you are thinking about purchasing the book, please think about using one of the links. All money received goes back into the blog and helps to keep it running. Thank you.