Giraffe Problems by Jory John – Book Review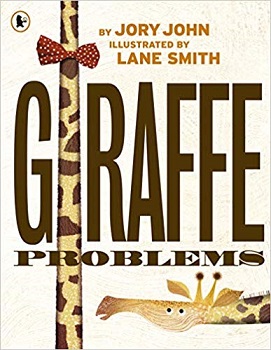 Giraffe Problems
Author – Jory John
Illustrator – Lane Smith
Publisher – Walker Books
Pages – 40
Released – 5th September 2019
ISBN-13 – 978-1406385632
Format – paperback, hardcover
Review by – Stacey
Rating – 5 Stars
I received a free copy of this book.
This post contains affiliate links.
From Jory John and Lane Smith, the winner of the 2017 Kate Greenaway Medal, comes a laugh-out-loud companion to the acclaimed Penguin Problems.
Edward the giraffe can't understand why his neck is as long and bendy and ridiculous as it is. No other animal has a neck this absurd. He's tried disguising it, dressing it up, strategically hiding it behind bushes … anything he can think of. But just when he's exhausted his neck-hiding options, a turtle ambles in and tries to help him understand that his neck has a purpose … and looks excellent in a bow tie.

Edward the giraffe hates his neck. It is too long, too bendy, too narrow, too stretchy, and too patterned. He believes he has a neck only a mother could love. He doesn't like the other animals staring at his neck and he tries to hide in objects, with scarves, behind trees, etc.
One day Edward meets Cyrus the turtle. Cyrus loves Edward's neck and wishes his was long then he could do so much rather than being nearly neckless. When Cyrus has a dilemma he would like Edward to help him with, Edward realises that his neck might not be that bad after all.
Have you ever looked at yourself or a part of your body and wished it was different. Maybe a smaller nose or bigger eyes? Wished you were taller or shorter? Then you are just like Edward the giraffe.
You might not realise it but every bit of you that you wish you could change there is someone else out there wishing they could be just like you. Do you want to have bigger feet? Another child might wish they had smaller feet and be envious of your feet, just as you are of their bigger ones.
Giraffe Problems is about learning to love the bits of you that you don't particularly like. It is a beautiful book told in a humorous way. Some pages you read normally, others you have to turn the book sideways to read, there is even a page that opens out so you can see just how long Edward's neck is.
The book is exquisitely illustrated and the animals look amazing and very eye-catching. The plot is superb and hopefully, it will make children understand that it is good to be different and to appreciate what body they have.
Book Reviewer – Stacey
---
Purchase online from:
---
About the Author

Jory John is the author of the picture books I Will Chomp You! and Quit Calling Me a Monster!, both illustrated by Bob Shea, and Goodnight Already! and I Love You Already!, illustrated by Benji Davies. He is the co-author of the New York Times bestselling novel, The Terrible Two, and the bestseller All My Friends Are Dead, among many other books. He lives in San Francisco, USA.



---
What did you think of the book? Share your thoughts in the comment section below!
---
The above links are affiliate links. I receive a very small percentage from each item you purchase via these link, which is at no extra cost to you. If you are thinking about purchasing the book, please think about using one of the links. All money received goes back into the blog and helps to keep it running. Thank you.