People of Abandoned Character by Clare Whitfield – Book Review
People of Abandoned Character by Clare Whitfield – Book Review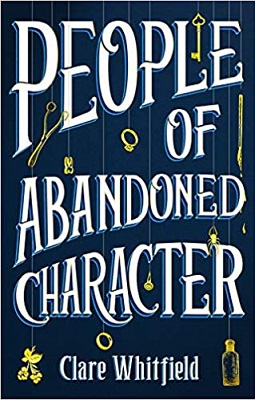 People of Abandoned Character
Author – Clare Whitfield
Publisher – Head of Zeus
Pages – 432
Released – 1st October 2020
ISBN-13 – 978-1838932732
Format – ebook, paperback, hardcover, audio
Rating – 5 Stars
I received a free copy of this book.
This post contains affiliate links.


Synopsis
He is my husband.
To honour and obey.
Until murder do us part.
London, 1888: Susannah rushes into marriage to a young and wealthy surgeon. After a passionate honeymoon, she returns home with her new husband wrapped around her little finger. But then everything changes. His behaviour becomes increasingly volatile and violent. He stays out all night, returning home bloodied and full of secrets.
Lonely and frustrated, Susannah starts following the gruesome reports of a spate of murders in Whitechapel. But as the killings continue, her mind takes her down the darkest path imaginable. Every time her husband stays out late, another victim is found dead.
Is it coincidence? Or is he the man they call Jack the Ripper?
I have a bit of a fascination with Jack the Ripper and my favourite historical novels are set in Victorian London so I had a feeling that People of Abandoned Character might just be the book for me, and I was certainly right.
We meet Susannah who has been through some tough times in her life. Hoping to make a new start after the death of her grandparents who raised her, she decides to train as a nurse, and it is here that she meets her younger husband Thomas Lancaster, a surgeon from an affluent family.
The couple quickly marries and after their honeymoon, Susannah moves into the large family home where there are maids, cooks, gardeners, etc. Not something she is used to and coming from a poor background she quickly feels out of her depth. Then Thomas changes, demanding things from her in the bedroom, becoming distant and cold, violent and repulsive towards her. She also notices that he stays out late on each of the nights that a woman is murdered in Whitechapel.
Being inquisitive, Susannah begins to think that her husband could be the man they are calling 'Jack the Ripper', and she begins her own investigations into proving her theory. Could Susannah's husband really be a cold-blooded killer of women?
From the very first page, I adored this book. Susannah was a feisty, strong-willed woman who after years of heartbreak and being poor she had taken it upon herself to be a better person and get herself out of the situation she had grown up in. When Thomas Lancaster shows an interest in her she can't believe her luck. A man with standings and money interested in someone like herself.
She loved Thomas but his behaviour changing so quickly after their marriage showed her that she was nothing to him, just a wife he needed to take. Someone to be at his beck and call when he wanted.
The plot weaves the story of Jack the Ripper in nicely to the home life of Susannah and Thomas. We get to read what the papers were writing at the time and how Susannah starts to think maybe her husband could be the killer. She certainly was careful and meticulous in her investigations, which added another level to this historical mystery with Susannah coming across as an amateur detective.
There were quite a few twists in the plot that I hadn't seen coming and a few surprises too. The attention to detail and the plight of the people, especially the poor people living in Victorian England came across so vividly as well as how badly women were treated, especially by their husbands. This has become one of my favourite historical novels and if you love the Victorian era then grab a copy now!
Purchase Online From:
---
What did you think of 'People of Abandoned Character'? Share your thoughts in the comment section below!
---
The above links are affiliate links. I receive a very small percentage from each item you purchase via these link, which is at no extra cost to you. If you are thinking about purchasing the book, please think about using one of the links. All money received goes back into the blog and helps to keep it running. Thank you.
Like us on Facebook – Tweet us on Twitter – Pin us on Pinterest – Join us on Instagram