Becoming Phoebe by J. Michael Neal – Book Review
Becoming Phoebe by J.Michael Neal – Book Review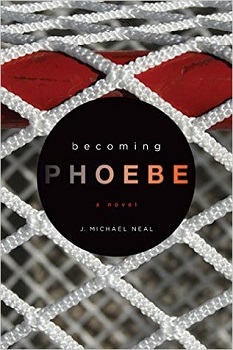 Becoming Phoebe
Author – J. Michael Neal
Publisher – Melancholy Donkey Press
Pages – 419
Release Date – 1st February 2016
Format – ebook, paperback
Reviewer – Stacey
I received a free copy of this book
Post Contains Affiliate Links

Eighteen-year-old Phoebe Rose spent her childhood in one foster household after another, never having a place she could feel safe or group of friends she belonged to. What kept her going was hockey. The rink was the only place she felt at home.
Now what she wants more than anything is to play on her college hockey team—to leave her past behind and start building a new life. But she knows things are never that simple. Becoming Phoebe is about painful secrets, unexpected friendships, and joining a team so you can become your true self.

At just four years old, Phoebe is found wandering the streets on her own. As she grew older, she found herself sent from one foster home to another, until at the tender age of 18, she was old enough to grow her own wings and leave the system.
Phoebe's childhood was marred with neglect and abuse. Her only safe pace was on the ice rink, playing hockey, in a mainly male-orientated sport. On the ice she felt less lonely and enjoyed being a part of a team.
As Phoebe flourishes on the ice, she starts to break down her own frozen wall, that she has built around herself, to become the person she should have always been – herself.
Becoming Phoebe is a page-turner of a book. There are many sensitive and delicate issues within the story which the author handles with great care and understanding. Through a series of flashbacks, you come to feel a real connection with Phoebe and have a genuine sense of love for her, and a will for her to become the woman that deep down she really is.
Phoebe is a complex character that you will instantly feel an empathy towards. Whilst her traumatic past does play an important part in her life, she doesn't let it dictate who she is now and who she wants to be. She has learned to control her own future.
Becoming Phoebe is about one young woman's courage and battle to leave her horrid past behind, and flourish in the present with the help of a great team of hockey players, who she has the pleasure of calling her friends. It will leave you with a sense of satisfaction, whilst throughout it will have you breaking your heart in some places, and beaming at others.
Book Reviewed by Stacey

J. Michael Neal lives in Minneapolis, where he owns a house and in turn is owned by three cats. His passions are history, fantasy and science fiction, role playing, prog rock, sports, good liquor, and especially the Gopher women's hockey team. Unproductive at home, he works primarily from various restaurants around the Twin Cities. His favorite authors include Guy Gavriel Kay, Jon Courtenay Grimwood, and Alistair Reynolds.
He has been published in By Polaris Bright, an anthology from the Minnesota Speculative Fiction Writers. His story "Living After Noon" won the Open Division of the 2013 Minnesota Geek Partnership Society Writer's Contest, and his story "The Love of His Life" will be published in an upcoming issue of Tales of the Unanticipated.
Author Links