The Unfortunate Decisions of Dahlia Moss by Max Wirestone – Book Review
The Unfortunate Decisions of Dahlia Moss by Max Wirestone – Book Review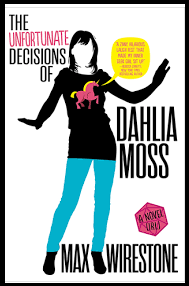 The Unfortunate Decisions of Dahlia Moss
Author – Max Wirestone
Publisher – Redhook
Pages – 304
Release Date – 20th October 2015
Format – ebook, paperback, hardcover, audio
Reviewer – Stacey
I received a free copy of this book
Contains Affiliate Links

The odds of Dahlia successfully navigating adulthood are 3,720 to 1. But never tell her the odds.
Meet Dahlia Moss, the reigning queen of unfortunate decision-making in the St. Louis area. Unemployed broke, and on her last bowl of ramen, she's not living her best life. But that's all about to change.
Before Dahlia can make her life any messier on her own she's offered a job. A job that she's woefully under-qualified for. A job that will lead her to a murder, an MMORPG, and possibly a fella (or two?).
Turns out unfortunate decisions abound, and she's just the girl to deal with them.

To say that this book is completely different to anything that I had read before, would be an understatement.
Dahlia Moss is an unemployed, skint, young woman, sharing an apartment with her crazy best friend Charice. She is approached out of the blue, by an acquaintance of Charice's, Jonah Long, who wants her to become a private detective for him (even though she has no skills in the occupation). For a nice sum of money, Dahlia decides to give it a go.
Things aren't quite straight forward though. You see, what Jonah wants is something returned to him that has been stolen, 'The Bejeweled Spear of Infinite Piercing'. The spear is not an actual real-life spear, it is a weapon in the on-line computer game, Zoth, which he wants Dahlia to join, and find who took it.
Things take a turn for the worst when Jonah Long is found dead, killed by a copy that has been made of the computerised spear. Now Jonah's family want Dahlia to carry on her detective work for an even larger sum of money. The police though warn Dahlia to leave the case to them, otherwise she could get herself into a lot of trouble, and not just with them.
The book is told from Dahlia's point of view, and flits between the real world and the on-line gaming world of Zoth (a bit like World of Warcraft or Dungeons and Dragons).
Not being a gamer myself, I did find the book confusing at times, as there are a lot of characters in the book who have two names. A cyber name for when playing Zoth, and a real life name, such as Dahlia became RedRadish, a fairy with a harp, when playing Zoth. With her communication with Jonah's 'friends' both in the game and outside of cyberspace, sometimes I couldn't remember which person played which character.
I did have a fondness for Dahlia. She is unusual and weirdly likeable. She mixed in even weirder circles, especially when her best friend and room-mate Charice was involved. With her non-existent knowledge of being a detective, her detective skills were somewhat unorthodox, yet she turned out to be quite good at it, even if she did make some of the discoveries by chance, and that she didn't actually locate the spear by herself.
Charice for me was the character that brought the laughter to the book. She had quirky strange habits and the way she views the world around her will, like no-one else would, have you giggling out loud, though I certainly wouldn't like to share a room with her.
When I read the synopsis, I kind of knew that this book might not be suited to me, but I like to try different genres and different styles of books. Unfortunately this did nothing for me. I found myself struggling to get through each chapter and could only read it for short periods of time as I lost interest in the plot sometimes.
If you are a gamer or someone who is interested in the gaming world, then The Unfortunate Decisions of Dahlia Moss would definitely be for you.
Book Reviewed by Stacey
Purchase Links


Max is a graduate from the Alabama School of Mathematics and Science, and has a degree in English from Washington University in St. Louis. He spent his twenties as a librarian-nomad, crossing the United States, and shelving (and reading) a lot of books along the way.
After moving to New England, Max became the director of a small-town library, where he could unite his love of books, mysteries, and geekery. Since then, he's taught a lot of small children how to dust for fingerprints, helped teens and tweens build competitive Lego Mindstorm robots, and has become his town's definitive source on how to correctly pronounce character names in Game of Thrones.
Max cleverly married an editor, and his husband have a 4-year-old son. They live in a 135-year-old house, which is filled with toys, games, and blasts of cold air.
Currently, Max is busy working on Dahlia Moss's next adventure. That, or he's just playing Hearthstone.
Author Links