A Book About Empathy by Manuela Ocampo – Book Review
A Book About Empathy by Manuela Ocampo – Book Review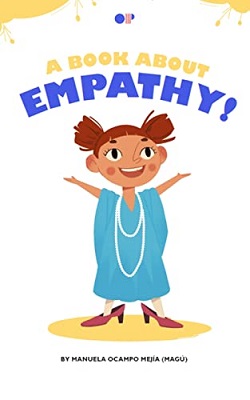 A Book About Empathy
Author – Manuela Ocampo
Release Date – 9th November 2021
Pages – 39
ISBN 13 – 979-8759816164
Format – ebook, paperback
Star Rating – 4
I received a free copy of this book.
This post contains affiliate links.

Synopsis
Ever seen a younger child getting out of their way to comfort an older child when the latter is sad?
This complex emotional intelligence skill paired with caring action is "Empathy", a superpower of our modern day and age.
The Book is aimed at 3 to 10 -year-olds and features the story of Maddie, a 4-year-old girl who is the book's main character.
Maddie is outgoing, bubbly and along her journey she encounters multiple characters and situations that helps her understand her own emotions and others´ circumstances.
The book uses colorful illustration and simple narrative to tell the story of Maddie and her companions on the journey to understand and practice empathy, including:
Multiple Storylines―Multiple stories to help kids understand different examples of feeling with others.
Simple Guide―Kids will learn to about empathy through simple guides and reflection moments within the book.
A Guidebook to Nurture Empathy― Guidance and Tips that will help adults nurture empathy in children as they grow up.
A Book About Empathy is a delightful children's book that teaches little ones what empathy is and how they can be empathetic to others in different situations.
In the story, we meet a little girl called Maddie who is being taught about empathy by her teacher. The teacher gives the class different scenarios and asks them to put themselves in the other person's shoes and see how they would be feeling.
The book is a great learning tool for youngsters learning about empathy, and being empathetic is a great asset to have, unfortunately not enough people in the world have it and by teaching our kids whilst they are young hopefully we can change that.
The book is illustrated perfectly and the images describe the situations that are mentioned. The book also contains advice for parents/guardians/teachers on helping children to understand empathy and to gain a vital life skill.
---
Purchase Online:
The above links are affiliate links. I receive a very small percentage from each item you purchase via these links, which is at no extra cost to you. If you are thinking about purchasing the book, please think about using one of the links. All money received goes back into the blog and helps to keep it running. Thank you.