Secrets and Spies by Anita Ganeri – Book Review
Secrets and Spies by Anita Ganeri – Book Review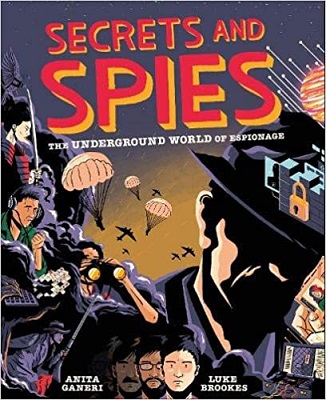 Secrets and Spies
The Underground World of Espionage
Author – Anita Ganeri
Illustrator – Luke Brookes
Publisher – Little Tiger Press
Pages – 72
Released – 7th September 2021
ISBN-13 – 978-1838913618
Format – hardcover
Rating – 5 Stars
I received a free copy of this book.
This post contains affiliate links.


Synopsis
Prepare to go undercover and enter a world of secret missions, covert operations and classified information. Explore the history of espionage from ancient secret agents to modern-day surveillance, and read about the lives of infamous spies and their missions.
Learn the language of spies and how to read codes and ciphers, then ask yourself the all-important question – could you be a spy? An exploration of a hugely popular subject by the author of the best-selling 'Horrible Geography series.
Secrets and Spies: The Underground World of Espionage is a children's non-fiction book which as you may have guessed from the title is all about spies and spying. The book provides information on what spying is as well as some of the most famous spies in both the real world and the fictional world, plus, gadgets that have been used throughout history, closing with spying in the present era.
The book is written in chronological order and begins in the 'Ancient World' where spies have been recognised as early as the 4th century especially in places like Greece, Egypt, China, and Italy.
The book moves through time including Medieval times, the Tudor period, and the World Wars.
Some of the people that caught my eye were, Julie Child who invented a shark repellent to stop sharks accidentally setting off bombs intended for German U-boats, and Juan Pujol Garcia (AKA Garbo), who after being turned down by the British Secret Service to spy for them, he approaches the Germans and they accept his offer, however, he wasn't really spying for them he was giving them misinformation, he didn't even step foot in Britain until the British found out what he was up to and recruited him. After the war, he moved to Venezuela and opened a book shop.
The book has been written in a comic book style with bright colourful illustrations adorning every page. The information has been broken up into small passages making it easy to read and hopefully easier for the facts to sink in.
I adored Secrets and Spies: The Underground World of Espionage, I loved gaining so much knowledge and of course, with James Bond being the movie of the moment, I am sure children will be eager to read about spies and spying, plus, there is a section on Bond and the author of the books Ian Fleming too for them to enjoy.
Purchase Online From:
---
What did you think of 'Secrets and Spies'? Share your thoughts in the comment section below!
---
The above links are affiliate links. I receive a very small percentage from each item you purchase via these links, which is at no extra cost to you. If you are thinking about purchasing the book, please think about using one of the links. All money received goes back into the blog and helps to keep it running. Thank you.
Like us on Facebook – Tweet us on Twitter – Pin us on Pinterest – Join us on Instagram