Diary of an Accidental Witch by Honor and Perdita Cargill – Book Review
Diary of an Accidental Witch by Honor and Perdita Cargill – Book Review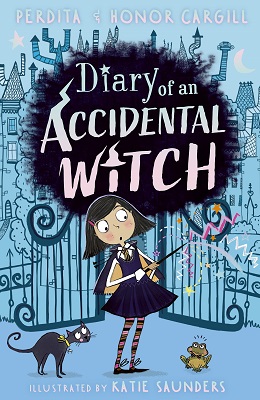 Diary of an Accidental Witch
Author – Honor and Perdita Cargill
Illustrator – Katie Saunders
Publisher – Little Tiger Press
Pages – 224
Released – 2nd September 2021
ISBN-13 – 978-1788953382
Format – paperback
Rating – 5 Stars
I received a free copy of this book.
This post contains affiliate links.


Synopsis
Monday 20th September
I'M AT WITCH SCHOOL! Now would be a really good time to discover I can do magic…
Bea Black has just moved to Little Spellshire, a town with a magical secret. When her dad accidentally enrols her at the local witch school, she has to get to grips with some interesting new classes, like, NOW! Also on her to do list? Make friends, look after the grumpy class frog AND do everything humanly magically possible to stay on a broom…
But with the Halloween Ball on the horizon, will she be able to master her wand skills in time to WOW? And more importantly can she keep her newfound magical abilities a secret from dad?
Bea Black has moved to the village of Little Spellshire with her weather scientist father who has come to the village to write a book on the strange and unpredictable microclimate it has.
The village has two schools, the modern academy and 'the other school'. After making a friend, Ashkan (Ash), who shows her his school, the modern academy, Bea can't wait to start. Unfortunately, her father forgot to put her name down and now she has to attend 'The School of Extraordinary Arts' in which the uniform includes a cape, a broomstick, and a wand. Bea is now nervous about starting a new school, she has no friends there and she is no witch, what is she going to do?
Diary of an Accidental Witch is an entertaining and engaging story featuring the loveable and very sweet Bea Black. She is warm, friendly, and kind. When she ends up at the 'magic' school with no magical abilities, well none known, she finds that her lessons are very different from 'normal' schools and that she is to study and practice magic.
The story has plenty of hilarious moments as well as very sweet ones too. I adore the relationship between Bea and Ash, plus the weather in Little Spellshire is certainly amusing. I also love how Bea tries to hide everything about her schooling from her father who doesn't seem to have worked out given the village's title, the names of the shops, the number of cats roaming around, the strange weather, plus, Bea's uniform that this town could be magical. 🙂
Written in diary format and featuring amazing artwork throughout this book is one that will keep children intrigued and happy the whole way through.
Purchase Online From:
---
What did you think of 'Diary of an Accidental Witch'? Share your thoughts in the comment section below!
---
The above links are affiliate links. I receive a very small percentage from each item you purchase via these links, which is at no extra cost to you. If you are thinking about purchasing the book, please think about using one of the links. All money received goes back into the blog and helps to keep it running. Thank you.
Like us on Facebook – Tweet us on Twitter – Pin us on Pinterest – Join us on Instagram