Doctorsaurus by Emi-Lou May – Book Review
Doctorsaurus by Emi-Lou May – Book Review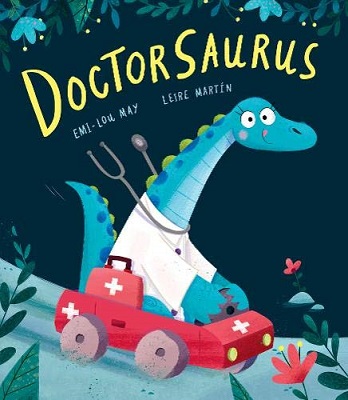 Doctorsaurus
Author – Emi-Lou May
Illustrator – Leire Martín
Publisher – Little Tiger Press
Pages – 32
Released – 4th March 2021
ISBN-13 – 978-1788818612
Format – hardcover
Rating – 5 Stars
I received a free copy of this book.
This post contains affiliate links.


Synopsis
Thumping head? Tummy ache? Nose all sore and sniffy? Then call for Doctorsaurus and she'll fix you in a jiffy!
A rhyming prehistoric romp – just the tonic for poorly toddlers!
Doctorsaurus is one of those books that children will adore and find hilarious, whilst parents/guardians will pull horrid faces at some of the scenes.
The book is filled with different dinosaurs all having medical issues such as Triceratops breaking his horn in three, or T-Rex having a thumping head, sneezing, and sniffing. They all get help from their local doctor – Doctorsaurus, who fixes all their problems, including giving prunes to one who can't go to the toilet (might have something to do with the horrid scenes mentioned above!!)
The book is illustrated wonderfully with bright, colourful illustrations that are a lot of fun to look at and are full-page too. The book has been written in a rhyming style which I love and find that children love as well.
The plot is highly amusing and I love how helpful Doctorsaurus was to all her patients. The dinosaurs appreciated her so much that they even threw her a party.
This is a story that I can see young children asking for over and over again as it is adventurous, thrilling, and will make them laugh-out-loud.
Purchase Online From:
---
What did you think of 'Doctorsaurus'? Share your thoughts in the comment section below!
---
The above links are affiliate links. I receive a very small percentage from each item you purchase via these link, which is at no extra cost to you. If you are thinking about purchasing the book, please think about using one of the links. All money received goes back into the blog and helps to keep it running. Thank you.
Like us on Facebook – Tweet us on Twitter – Pin us on Pinterest