The Wilderness Between Us by Penny Haw – Book Review
The Wilderness Between Us by Penny Haw – Book Review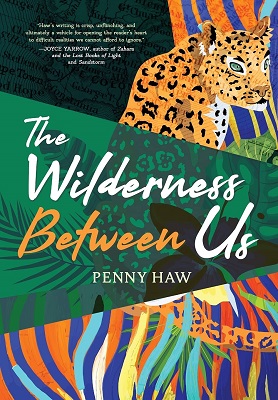 The Wilderness Between Us
Author – Penny Haw
Publisher – Koehler Books
Pages – 282
Released – 31st July 2021
ISBN-13 – 978-1646634163
Format – ebook, paperback, hardcover
Rating – 5 Stars
I received a free copy of this book.
This post contains affiliate links.


Synopsis
Faye Mackenzie and her friends' anorexic daughter, Clare, are thrown together when a flood separates them from their hiking group in the remote, mountainous Tsitsikamma region of South Africa. With Clare critically injured, Faye is compelled to overcome her self-doubt and fear of the wild to take care of the younger woman, who opens her heart to Faye.
As their new friendship takes the women on an unexpected journey of discovery, the rest of the group wrestles with the harrowing aftermath of their own near tragedy. When the hiking party is reunited, their number is reduced by one.
Juxtaposing physical and psychological suspense, The Wilderness Between Us is a tale of two fragile women who unexpectedly find clarity, independence, and renewed purpose as they fight to survive. It is a vivid, moving story about family, friendship, adventure, and the healing power of nature and compassion.
The luxuriant South African bush with its exotic plants and animals, and eight friends on a hike through the mountains. What could go wrong? Quite a bit, it turns out. From floods to life-threatening injuries, the hikers encounter much more than they planned.
Twenty-something Clare Bosson is a last-minute substitute for her mother, who couldn't make the trip. She is struggling with anorexia, trying to pull herself out of the illness by exerting tighter than ever control over herself. As the group prepares to set off on the second day's hike, Clare comes down with a severe migraine and can't go along. She waits behind, intending to hitch a ride with the rangers when they move the group's supplies to the next campsite. Worried about the girl being alone, Faye Mackenzie stays with her. Faye is a timid woman who is often the butt of her husband Derek's jokes. Years of this have drained her self-confidence.
The second day of hiking was a disaster. The main group of hikers finds the Bloukrans River swollen by unseasonable heavy rains. One of them nearly drowns and Derek injures his back saving her. Clare and Faye are in better shape, until, that is, Clare takes off on a long hike alone and severely injures herself in a fall. Faye finds herself responsible for the young woman, who is too hurt to move. After years of Derek's gaslighting, will she be able to find the strength and confidence she needs to survive in the bush and get help for Clare's life-threatening injuries?
The Wilderness Between Us is a story of personal growth. Forced together by circumstances, Clare and the older woman develop a bond of friendship like none she's known before. By the end of the book, each helps the other and herself realize that they've been missing much of life has to offer and they make some crucial decisions for their future.
The main story is, of course, the African hike and the tribulations of the hikers. But the writer also uses flashback scenes to explain how the characters got to be the way they are. Readers get insight into Clare's anorexia, Derek's bullying behavior, Faye's descent into self-doubt, and much more. The action moves along but not in such a way that the pace seems rushed.
Like several of the books I've reviewed, this one is peppered with foreign words and names. However, the author has helpfully included a glossary at the beginning, and this helps the reader immensely.
Although I was unable to finish it in one sitting, The Wilderness Between Us was difficult to put down. Clare and Faye are likable, sympathetic, and I found myself rooting for them throughout the book. This is one book that I can enthusiastically recommend.
Purchase Online From:
---
What did you think of 'The Wilderness Between Us'? Share your thoughts in the comment section below!
---
The above links are affiliate links. I receive a very small percentage from each item you purchase via these links, which is at no extra cost to you. If you are thinking about purchasing the book, please think about using one of the links. All money received goes back into the blog and helps to keep it running. Thank you.
Like us on Facebook – Tweet us on Twitter – Pin us on Pinterest – Join us on Instagram