Out of Sight by Martin Granger – Book Review
Out of Sight by Martin Granger – Book Review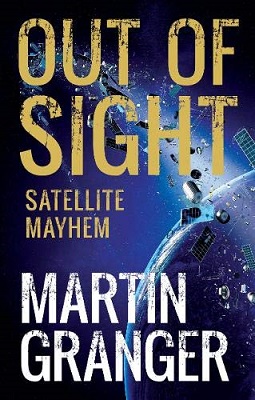 Out of Sight
Author – Martin Granger
Publisher – RedDoor Press
Pages – 320
Released – 29th April 2021
ISBN-13 – 978-1913062613
Format – ebook, paperback
Rating – 4.5 Stars
I received a free copy of this book.
This post contains affiliate links.


Synopsis
SATELLITES ARE FALLING OUT OF THE SKIES
When rogue junk collides with a television satellite 22,000 miles above the Earth, blind cosmologist Harry Stones approaches Film Director Nathalie Thompson to make an investigative documentary.
Undeterred by Harry's lack of sight, their quest leads them from the peaks of Arizona to a mile-deep mine in Yorkshire, and finally to a Launchpad in Kazakhstan.
As more and more satellites keep falling out of the sky, their curiosity turns to fear. Forewarned of the possible outbreak of World War Three, can Harry and Nathalie prevent the space collision of all time?
Blind Cosmologist Dr. Harry Stones, who has only recently lost his sight has noticed some strange goings with satellite trajectories whilst searching for Cold Dark Matter. He has tried to warn the company he works for but no one is listening so he approaches Film Director Nathalie Thompson about making an investigative documentary to find out what is happening.
Taking some time off from work for a 'holiday' Harry and Nathalie set off across the world trying to discover if there is an issue with the satellites or is someone purposely changing their trajectories so that they crash into other objects in space and wipe them out. Might sound harmless until you realise that these satellites are vitally needed, from the internet to radar, tv programmes, GPS, phones, communications, weather reporting, etc.
Out of Sight is an intriguing book that although is set in the world of science and space doesn't get too bogged down in the terminology or complex details that you will struggle to follow the story if you have little knowledge or interest in satellites.
It's not only Harry and Nathalie investigating the satellites, we meet numerous other people who are either trying to discover what happened or trying to stop the investigations. We also have a Russian detective who is looking at four murders that could be connected in some way.
The book opens with the realisation that two satellites are going to crash and the battle to move them before they do. At this point I did wonder what I had let myself in for as although the situation was serious and needed to be handled rapidly, the pace felt slow, and even after we first meet Harry at his place of work, still I wasn't convinced that this was going to be a book for me.
However, there is a scene that leads to the murders I mentioned above. It was at this point where the pace seemed to pick up and my interest heightened. The thriller was coming alive and from this point onward I found the book hard to put down. I loved the multiple threads that were interwoven and the fact that you never quite knew who were the good guys and the bad guys, even Harry's motives are questionable at times.
This is a thriller with a difference. It reminded me a little of Die Hard 4.0 (Live Free or Die Hard) in which John McClane is trying to stop a hacker from taking over the computer infrastructure and crippling the country. In Out of Sight, Harry Stone is John McClane, though without all the stunts and being constantly shot at. He is trying to find out who or what is attempting to wipe out the satellites which in turn will cause devastation, such as an oil tanker and a cruise ship crashing into each other as they have no radar!!
The book is fascinating. It has an original storyline and amazing characters. You can certainly tell that it has been written by someone who knows the investigative world as the plot is brought alive by rich and in-depth scenes that made it easy to visualise what was happening. If you are a thriller reader but looking for something a little different, this is the book to pick up.
Purchase Online From:
---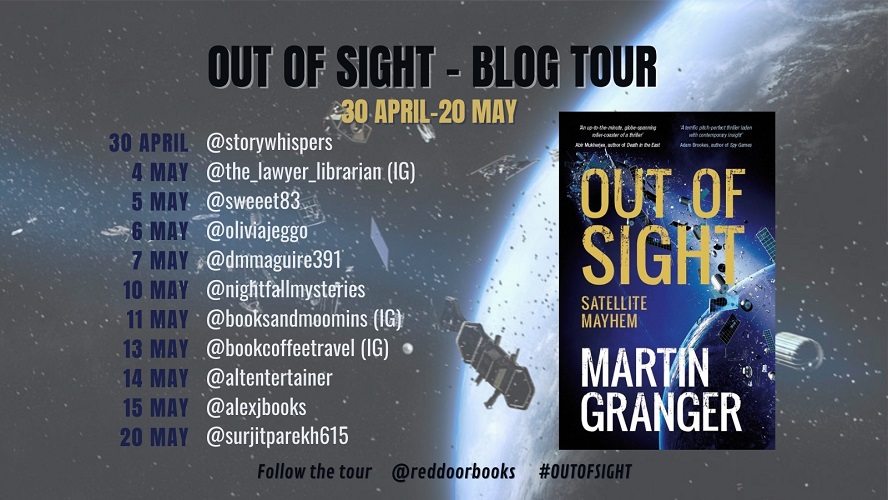 ---
What did you think of 'Out of Sight'? Share your thoughts in the comment section below!
---
The above links are affiliate links. I receive a very small percentage from each item you purchase via these link, which is at no extra cost to you. If you are thinking about purchasing the book, please think about using one of the links. All money received goes back into the blog and helps to keep it running. Thank you.
Like us on Facebook – Tweet us on Twitter – Pin us on Pinterest – Join us on Instagram