How Fields Of Orion Was Brought To Life by Andy Oppenheimer – Guest Post
How Fields Of Orion Was Brought To Life by Andy Oppenheimer – Guest Post
Today on the blog we welcome author Andy Oppenheimer, with his guest post 'How Fields Of Orion Was Brought To Life'. You can find out more about his books below. This post contains affiliate links.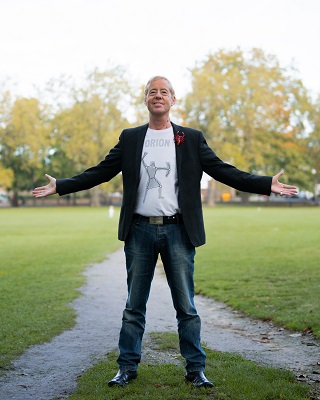 Andy is an author, editor, public speaker and subject matter expert in counter-terrorism and CBRNE (chemical, biological, radiological, nuclear weapons & explosives).
In August 2019 he published his first in a trilogy of science fiction novels. Fields of Orion: An Odyssey is set in London in the near-future world of terrorism, espionage and alien contact. This has now been followed up with the second book in the series Fields of Orion: The Mission which continues the story.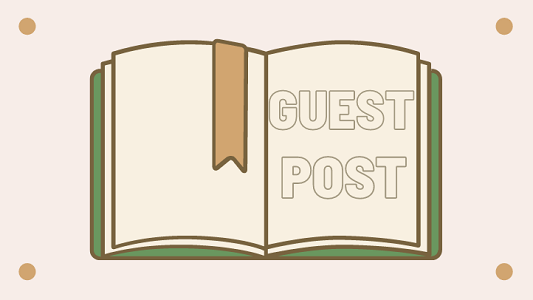 How Fields Of Orion Was Brought To Life
The author: Andy Oppenheimer AIExpE MIABTI
"Andy O"
Hi, I'm Andy Oppenheimer, a British consultant and author specialising in counter-terrorism. Or Andy O – it's shorter, and it's also O for Orion. More on that later, after I've talked for a bit about my first two novels in the science fiction series Fields of Orion.
My work in counter-terrorism has greatly influenced my first venture into writing science fiction. The story's main character, Major Adam Armstrong, is a British Army bomb disposal operator – but with one hell of a difference. He is a true hero, an alpha male, a superman – but his weaknesses emerge as he tackles insurmountable missions to save the world.
I don't think of myself as an author, more a creative spinner of ideas with no planning, just inspiration. Way back I worked for an American futuristic magazine, Omni, which published science fiction stories. I went to the big conventions in the USA and here in Britain, and met many famous authors.
When I look now at how many people have written a shed load of books in this and other genres while still young, I wonder if I should have started writing sci-fi back then. But during my time at Omni I was more involved in the London nightclub scene and as an '80s synth-pop singer/songwriter. I've continued playing live in European venues until lockdown last year.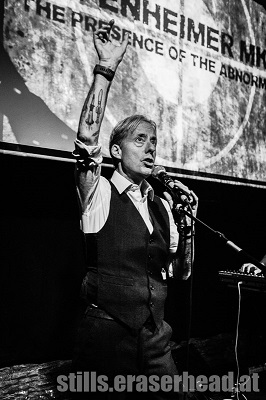 I am new, and very late, to the fiction writers' party. The first in my sci-fi trilogy, Fields of Orion: An Odyssey, came out in August 2019. Fields of Orion: The Mission was published last October, also on Amazon, and continues this epic story of heroism, terrorism, and first contact. Both books are set mainly in London – in particular, very strange happenings in the north London park Highbury Fields, near where I used to live – and also in Washington and Iraq.
The story is set in the present day, so in the first year of Covid-19 I held off publishing Book II in order to factor the pandemic into the plot.
The paranormal elements build with the growing tension and the action. Both books are gritty, realistic, with a fulsome helping of sex, romance, and humour. I especially enjoy writing dialogue. The foil for Adam who disarms the stickiest of situations with his witty one-liners is the hapless, horny and brave Dan, who gets recruited into MI5.
Where are the women in my stories, I hear you ask? A prime character in the whole series is the formidable Intelligence Chief, Carolyn – a no-nonsense former cop who gets caught up in the weirdest set of events ever faced by an MI5 operative. The other key character, biogeneticist Dr Allison Hardy, plays the lead role in revealing the story's big secret. Bea, Dan's research assistant, gets recruited into a dangerous role in MI5. Espionage is a key element.
Betrayal, treachery and secrecy are huge themes. Both books straddle the genres of spy and military thriller as well as science fiction. As the old song said, don't fence me in – I can't restrict myself to just one category in anything I do.
An equally powerful influence is the music and imagery of David Bowie – who has influenced my life and creative work beyond much else.
Then there is the Orion Greek myth theme, which runs throughout the portrayal of Adam.
---
Fields of Orion (I): An Odyssey
Author – Andy Oppenheimer
Pages – 350
Released – 17th August 2019
ISBN-13 – 978-1686106965
Format – ebook, paperback


While in service in Iraq, charismatic, handsome British Army bomb-disposal operator Major Adam Armstrong develops extraordinary abilities of telekinesis and rapid recovery from injuries. He is reluctantly recruited into a futuristic military project to create super-soldiers, headed up by the ice-cold Captain Sheena Maxwell, a spurned lover hell-bent on revenge.
Maverick counter-terror expert Dan Boland foresees the fourth London bomb attack in July 2005 after seeing furious waves of energy light up the sky above a north London park. When he meets Adam Armstrong, he sees the decorated Army officer's horrific PTSD flashbacks of battle carnage and his visions of an ancient people, somewhere…
Dan is recruited by the British Intelligence Service MI5 as an undercover agent to sabotage Adrestia, a group of far-Right scientists planning acts of cataclysmic terrorism. Here I have drawn on my knowledge of terrorism and the rise of the far Right in America.
When geneticist and MI5 agent Dr Allison Hardy makes a shocking discovery about Adam Armstrong, she propels the most covert government project in history into unknown territory. As the Adrestia terrorists' plans approach their terrifying climax in London, Sheena's diabolical plot against Armstrong gathers pace as he takes the Longest Walk of his career into unprecedented danger – while carrying the world's most devastating secret.
Purchase links:
---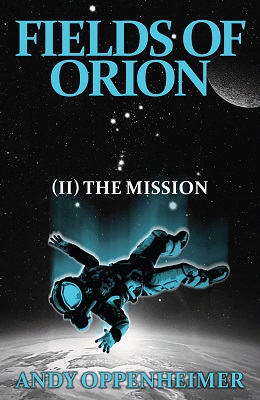 Fields of Orion II: The Mission
Author – Andy Oppenheimer
Pages – 315
Released – 14th October 2020
ISBN-13 – 979-8697215968
Format – ebook, paperback


Fields of Orion II: The Mission focuses on Adam's monumental task. But first we go back to October 1993: a huge blast lights up the Earth's atmosphere during the annual Orionid meteor shower. The most secret government project in history knows exactly why.
And why Major Adam Armstrong was chosen to tackle the greatest threat to life on Earth festering below the Iraq desert.
On his tortuous journey Adam, aided by his loyal sidekick Dan, faces huge challenges as he deals with all who stand in his way: the lovers who betray him, the enemies who seek to destroy him, and a terrorist threat from a real group we became all too sadly familiar with: ISIS.
The ensuing cataclysmic events culminate in the most dangerous secret in history being fully revealed to a stunned world audience. An even greater disaster looms, to be unleashed by a devastating entity: the reason for Adam's very existence.
Purchase links:
---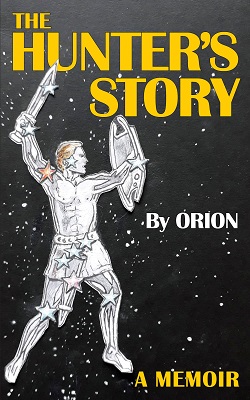 The Hunter's Story
Author – Orion
Pages – 134
Released – 20th April 2021
ISBN-13 – 979-8741432396
Format – ebook, paperback


The romantic, heroic and dark Greek mythology themes in Fields of Orion led me to write The Hunter's Story: my memoir as the legendary Orion the Hunter in Ancient Greece.
This is an even more drastic departure from my earlier writing career: it's not just science fiction, it's an erotica title.
Greek mythology has fascinated me since schooldays and at university, Ancient Greek philosophy. I'm on Twitter as Orion the Mighty Hunter, a parody of the primeval, predatory alpha male who hunted for women and animals in equal measure.
While I tweet for laughs, The Hunter's Story is a dark tale of sex and violence, of unrequited love, of Greek tragedy, of the hunter becoming the hunted. The end of this confession from a constellation is not according to myth.
Purchase links:
---
Reinvention
I have spent my life changing and experimenting: The Hunter's Story is just my latest morph and reinvention into something odd and edgy. The Ancient Greek legend of the rampant, rough hunter who ends up being banished to the eternal purgatory of outer space is arguably one of the first science fiction stories ever told, in its many versions. As an Adults Only title, I'm venturing into the unknown once again.
I wrote these stories because I suddenly get inspired by something or someone and then just bash them out in a book or song. I don't do market research or all that 'how to' stuff. I just do it.
I hope you will enjoy the few I've written so far. If you are interested in purchasing either of my published works then you can find them on Amazon: (Orion the Mighty Hunter is due out later this month!)
---
Share your thoughts on 'How Fields Of Orion Was Brought To Life by Andy Oppenheimer' in the comment section below!
---
The above links are affiliate links. I receive a very small percentage from each item you purchase via these link, which is at no extra cost to you. If you are thinking about purchasing the book, please think about using one of the links. All money received goes back into the blog and helps to keep it running. Thank you.
Like us on Facebook – Tweet us on Twitter – Pin us on Pinterest