The Five Things by Beth Merwood – Promo Post
The Five Things by Beth Merwood – Promo Post
Sponsored Post – Today on the blog we welcome author Beth Merwood, with the Promotional Post for her book 'The Five Things', which will be released on 3rd May 2021.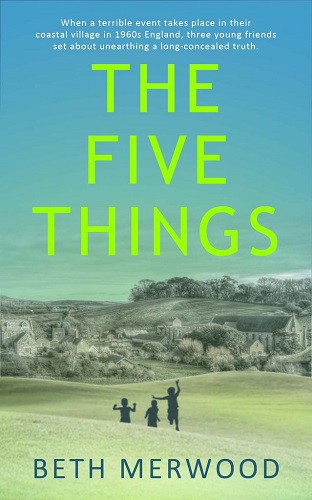 The Five Things
Author – Beth Merwood
Publisher – The Wild Rose Press
Pages – 215
Release Date – 3rd May 2021
ISBN 13 – 978-1509234998
Format – ebook, paperback

For nine-year-old Wendy, the summer of 1969 will never be forgotten.
Local kids have always told stories about the eerie wood on the outskirts of the village, and Wendy knows for sure that some of them are true. Now the school holidays have started and she's going to the wood again with Anna and Sam, but they soon become convinced that someone is trying to frighten them off.
When a terrible event rocks the coastal community, the young friends can't help thinking there must be a connection between the incident, the tales they've heard, and the strange happenings they've begun to witness. As glimpses of a darker world threaten their carefree existence, they feel compelled to search out the underlying truth.
---
What Reviewers' are Saying
– The five things is an essential thriller with pure suspense and a captivating plot – 5 Stars (Travel.with.a.book on Goodreads)

---
Giveaway
There is a giveaway currently running on Goodreads in which you could win 1 of 100 copies of 'The Five Things' for Kindle – Open until 3rd May – Available to US residents only, sorry.
---
Purchase Online From:
Also available on the Apple Store
---
Share your thoughts on 'The Five Things' in the comment section below!
---
*This is a sponsored post.
Like us on Facebook – Tweet us on Twitter – Pin us on Pinterest