Running Behind Time by Jan Turk Petrie – Book Review
Running Behind Time by Jan Turk Petrie – Book Review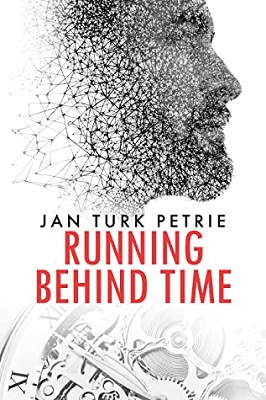 Running Behind Time
Author – Jan Turk Petrie
Publisher – Pintail Press
Pages – 328
Released – 1st March 2021
ISBN-13 – 978-1912855933
Format – ebook, paperback
Rating – 4.5 Stars
I received a free copy of this book.
This post contains affiliate links.


Synopsis
There's a wrinkle in time on the 15:15 train from Paddington to Cheltenham Spa.
It's the Summer of 1982, and Beth Sawyer is thrilled to have landed the title role in a play. It may only be in a fringe theatre in Shepherd's Bush, but it's the start she's always dreamed of.
It's the Summer of 2020, amid the global pandemic, and Tom Brookes is furloughed. Unable to face lockdown in a tiny city flat, he moves back to his mother's cottage in the sleepy Cotswold village of Stoatsfield-under-Ridge.
Neither of them expects an everyday train journey to throw their normal lives so spectacularly off-course.
This is the story of an extraordinary encounter between two people who should never have met.
Running Behind Time is a time-slip novel set between 1982 and 2020, England. Tom, 2020, is living amid a pandemic. He has been furloughed and had to move back in with his mother in a sleepy village. Desperate for work he speaks to a friend who might have a job for him and arranges to meet him in London. Tom travels to London via the train but never makes it to London 2020, ending up in 1982 instead.
Tom quickly realises he is in the wrong time period and decides that the only way to get back home is to board the same train and hope that he returns. He believes that the essential item to time travel is the train toilet and as the train travels down the tracks he heads for the loo, unfortunately, young Beth gets there before him. Tom thinks he has missed his chance, he didn't expect to actually return to 2020 and Beth to still be with him.
Tom realises that Beth will need help given that she has travelled 38 years into the future, and help she definitely needs as panic sets in. Over the next few days the pair try to get Beth back home but with the pandemic comes train cancellations and then a landslide onto the tracks meaning that the pair have to sit and wait it out, but whilst waiting around Tom has an idea which he believes will be beneficial to both of them.
I can't say I've read many time-slip novels so this was something different for me. I liked the premise, though if I am honest, I would have loved Tom to have been stuck in 1982 for longer and to go down memory lane, this is an age/nostalgia thing!!
The writing had an easy flow to it and the chapters were short which gave the book an air of urgency to the plot. It was told in the third person and from Beth and Tom's point of view, with some scenes overlapping as we get to see them through both of the main character's eyes.
Whilst the main part of the plot was set in 2020 and during Covid-19, this wasn't the main focus nor played a massive part. Yes, there was mask-wearing and social distancing but this felt natural and just part of normal life in 2020. I suppose readers of this book in ten/twenty years might find this strange, but it keeps the scenes realistic.
I read the book in just two sittings. It was one of those reads where you don't realise how long you have been reading for as time just melts away in the background and you find yourself fully absorbed in the entertaining story. There was more at play about the time travel which comes alive in the second half of the book, which I didn't see coming, plus the ending has me wondering if the author is thinking about writing a sequel.
Purchase Online From:
---
What did you think of 'Running Behind Time'? Share your thoughts in the comment section below!
---
The above links are affiliate links. I receive a very small percentage from each item you purchase via these link, which is at no extra cost to you. If you are thinking about purchasing the book, please think about using one of the links. All money received goes back into the blog and helps to keep it running. Thank you.
Like us on Facebook – Tweet us on Twitter – Pin us on Pinterest – Join us on Instagram